After the Prophet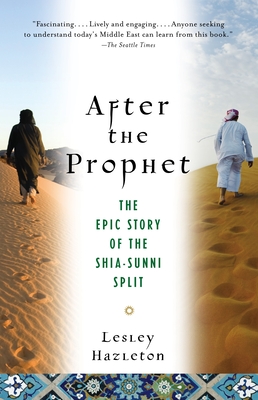 After the Prophet
The Epic Story of the Shia-Sunni Split in Islam
Anchor Books, Paperback, 9780385523943, 256pp.
Publication Date: September 7, 2010
* Individual store prices may vary.
Buy at Local Store
Enter your zip code below to purchase from an indie close to you.
or
Buy Here
Description
In this gripping narrative history, Lesley Hazleton tells the tragic story at the heart of the ongoing rivalry between the Sunni and Shia branches of Islam, a rift that dominates the news now more than ever.
Even as Muhammad lay dying, the battle over who would take control of the new Islamic nation had begun, beginning a succession crisis marked by power grabs, assassination, political intrigue, and passionate faith. Soon Islam was embroiled in civil war, pitting its founder's controversial wife Aisha against his son-in-law Ali, and shattering Muhammad's ideal of unity. Combining meticulous research with compelling storytelling,
After the Prophet
explores the volatile intersection of religion and politics, psychology and culture, and history and current events. It is an indispensable guide to the depth and power of the Shia-Sunni split.
About the Author
Lesley Hazleton is an award-winning writer whose work focuses on the intersection of religion, history, and politics. She reported on the Middle East from Jerusalem for more than a dozen years, and has written for Time, The New York Times, The New York Review of Books, Harper's, The Nation, and The New Republic, among others. Her book After the Prophet was a finalist for a PEN Center USA Literary Award, and she is the recipient of The Stranger's Genius in Literature Award. Hazleton lives in Seattle. For more information, visit: www.aftertheprophet.com. accidentaltheologist.com
Praise For After the Prophet…
"Fascinating. . . . Lively and engaging. . . . Anyone seeking to understand today's Middle East can learn from this book. . . . Hazleton not only recounts the facts behind the split but also expertly uses centuries-old accounts to convey the depth of emotional and spiritual associations bundled within a simple word like 'Karbala.' . . . [She] deftly uses original sources, many based on contemporaneous or nearly so oral accounts, to give life and breath to figures familiar to every Muslim but unknown to most non-Muslims."
—Seattle Times

"Illuminating. . . . After the Prophet will be held up as a primer for grasping the modern-day Middle East."
—The Miami Herald

"Remarkable. . . . A story of human passion and consequence, told with consummate skill. . . . [Hazleton] manages the not inconsiderable feat of maintaining scholarly respect for her subject while also showing a real fondness for the people at the story's heart—people who, we learn, were not unlike us, and whose tale is directly linked to today's newscast."
—Dallas Morning News

"Thrilling in its depiction of long-ago events. . . . Passionately and scrupulously done."
—The Wall Street Journal

"As sectarian aggression flares in Iraq, Hazleton's explanation of its deep, entrenched roots is essential."
—Christian Science Monitor
 
"A remarkable and respectful telling of the story of Islam—a tale of power, intrigue, rivalry, jealousy, assassination, manipulation, greed, and faith that would have made Machiavelli shudder (had he read it), but above all it is a very human story, told in a wonderfully novelistic style that puts most other, often dreary, explanations of the Shia-Sunni divide to shame."
—Hooman Majd, author of The Ayatollah Begs to Differ
 
"A profound story masterfully told. . . . An exceptional book."
—Publishers Weekly (starred review)
 
"A page turner that reads like an incredible cross between a suspense thriller and a fairy tale. All the elements of a fantastic story are here: intense spirituality; murder, violence, and bloodshed; dynastic power struggles; poison and atrocities; wife murdering husband; slave killing caliph; inspiring heroes; dastardly villains; heresy and apostasy. . . . The implications of [After the Prophet] are huge. . . . A superbly written first step for the uninformed to become knowledgeable. Don't miss it."
—The Fredericksburg Lance-Star
 
"Hazleton's gripping narrative of the rise of Islam and the subsequent split between Shia and Sunni branches paints a picture that is far more epic, nuanced, and tragic. . . . Hazleton unspools this historically tangled tale with assurance and admirable clarity."
—The Bellingham Herald (Washington)
 
"My only regret is that Hazleton didn't write this terrific and necessary book in time to enlighten Donald Rumsfeld, Paul Wolfowitz, et al., before they so unwisely invaded a land, and a religious culture, of which they were reprehensibly ignorant. I hope they read it now, with proper rue. Meanwhile, the rest of us can take pleasure in Hazleton's vigorously drawn characters, her lucid storytelling, and her enthralling, imaginative grasp of the roots and consequences of the Sunni-Shia divide."
—Jonathan Raban, author of My Holy War and Surveillance
 
"A new masterpiece. . . . Thrillingly and intelligently distills one of the most consequential trains of events in all history."
—Booklist (starred review)
 
"Whether or not George Bush even knew there were such things as Shias and Sunnis before invading Iraq, after reading Lesley Hazleton's gripping book no one will be able to plead ignorance about why the split between them happened and what it all means."
—Alan Wolfe, Director, Boisi Center for Religion and American Public Life, and author of The Future of Liberalism
 
"Hazleton succeeds in bringing out the truly epic character of the Shia-Sunni split, telling the story with great empathy. The general Western reader will come away from this book with a newfound respect for the depth and power of the early schism in Islam and of what happened at Karbala."
—Wilferd Madelung, Laudian Professor of Arabic, University of Oxford, and author of The Succession to Muhammad