All We Ever Wanted Was Everything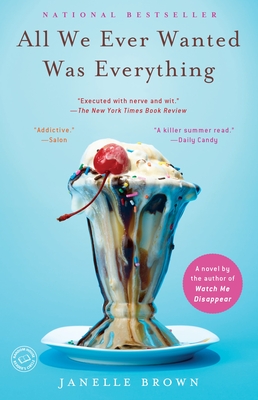 All We Ever Wanted Was Everything
Spiegel & Grau, Paperback, 9780385524025, 434pp.
Publication Date: May 12, 2009
* Individual store prices may vary.
Buy at Local Store
Enter your zip code below to purchase from an indie close to you.
or
Not Currently Available for Direct Purchase
Description
On the day Paul Miller's pharmaceutical company goes public, he informs his wife, Janice, that their marriage is over and that the new fortune is his alone. Meanwhile, in Los Angeles, the Miller's older daughter, Margaret, has been dumped by her hot actor boyfriend and is failing at her job, kind of spectacularly. Sliding toward bankruptcy, Margaret bails and heads for home, where her confused and lonesome teenage sister, Lizzie, is struggling with problems of her own: She's become the school slut. From behind the walls of their Georgian colonial bunker, the Miller women wage battle with divorce lawyers, debt collectors, drug-dealing pool boys, evangelical neighbors, and country club ladies-and in the process all illusions and artifice fall away, forcing them to reckon with something far scarier and more consequential: their true selves.
About the Author
Janelle Brown is a freelance journalist who writes for the New York Times, Vogue, Wired, Elle, and Self, among other publications, and was formerly a senior writer for Salon. She lives with her husband in Los Angeles. This is her first novel.
Praise For All We Ever Wanted Was Everything…

"A withering Silicon Valley satire . . . From the ashes of their California dreams, the three [women] must learn to talk to each other instead of past each other, and build a new, slightly more realistic existence—but not without doses of revenge and hilarity. Brown's hip narrative reads like a sharp, contemporary twist on The Corrections."—Publishers Weekly

"A razor-sharp critique of the absurd expectations that, these days, have come to stand for ambition, All We Ever Wanted Was Everything is wrenching, riveting, and still manages to be great fun. This is a wise, intimate chronicle of one family's struggle to take off their masks and live in the place they most feared: the real, imperfect world."—Meghan Daum, author of The Quality of Life Report

"Rarely does a first novelist write with such confidence and grace. All We Ever Wanted Was Everything is a marvelous book."—Ayelet Waldman, author of Love and Other Impossible Pursuits

"Janelle Brown's beautiful debut explores the tiny fissures in our lives and what happens when those fissures erupt into chasms. Excruciatingly funny, unrelentingly painful—this extraordinary book gives us something only the best novels can: a glimpse of what it means to be human."—Katherine Taylor, author of Rules for Saying Goodbye
"[An] unapologetically soapy mix of teen sex, quarter-life crises, food porn and mean-girl politics . . . a summery, old-fashioned page turner."—Salon