One More Year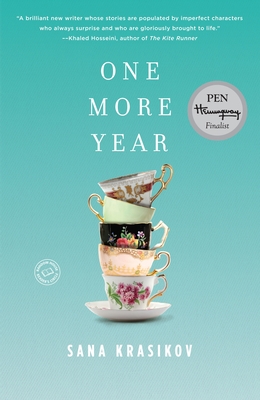 One More Year
Stories
Spiegel & Grau, Paperback, 9780385524407, 256pp.
Publication Date: August 11, 2009
* Individual store prices may vary.
Buy at Local Store
Enter your zip code below to purchase from an indie close to you.
or
Not Currently Available for Direct Purchase
Description
One More Year is Sana Krasikov's extraordinary debut collection, illuminating the lives of immigrants from across the terrain of a collapsed Soviet Empire. With novelistic scope, Krasikov captures the fates of people-in search of love and prosperity-making their way in a world whose rules have changed.
About the Author
Sana Krasikov's debut short story collection, One More Year, released in 2008, first drew critical raves for its exploration of the lives of Russian and Georgian immigrants who had settled in the United States. It was later named a finalist for the 2009 PEN/Hemingway Award and The New York Public Library's Young Lions Fiction Award, received a National Book Foundation's "5 under 35" Award, and won the 2009 Sami Rohr Prize for Jewish Literature. In these stories, which appeared first in The New Yorker, The Atlantic, and other magazines, one catches a glimpse of the new genuinely twenty-first century moment that followed the collapse of the Soviet Union. Praised for its unforgettable characters and impeccably crafted prose, the collection went on to be translated into a dozen languages. The San Francisco Chronicle wrote: "There are stories you read, absorb and think you've forgotten until you re-encounter them - when the world they've created blooms again to full size in memory, like a sponge dropped into water. So it is with Sana Krasikov's stories." Krasikov was born in the Ukraine and grew up in the former Soviet Republic of Georgia and New York.
Praise For One More Year…
"Sana Krasikov's memorable characters emerge, fully formed and breathing on their own, from a deep, clear pool of seemingly effortless language, a knowing and incisive but empathetic sensibility. These stories are original, resplendent, and brilliant."—Kate Christensen, author of The Great Man

"Sana Krasikov is the real thing. Her stories take shape inside the specific world of émigrés wrestling with language and loss and the stubborn details of survival, but they open into the largest of worlds and speak a universal language of heartbreak and desire."—Jonathan Rosen, author of The Life of the Skies

"In her stunning short-story debut, Krasikov hones in on the subtleties of hope and despair that writhe in the hearts of her protagonists, largely Russian and Georgian immigrants who have settled on the East Coast … Krasikov's prose is precise, and her stories are intelligent, complex, and passionate."—Publishers Weekly, starred review

"Sana Krasikov's observations of the world her characters inhabit—full of big and small tragedies, laughable and lamentable incidents—are as sharp as a surgeon's scalpel, yet her understanding of her characters—most often of their follies and imperfections—are tender and sympathetic. She treats every story as a novel, and the readers of these stories will, in the end, live with the characters beyond the space of a short story. These stories are the debut of a major literary voice shaped by the literary traditions both American and Russian."—Yiyun Li, author of A Thousand Years of Good Prayers

"Shrewdly humane and formally exquisite . . . Krasikov is as good as Junot Díaz and Jhumpa Lahiri were at this stage in their careers."—Miami Herald

"Stunning."—San Francisco Chronicle

"Immediate, urgent, and gratifyingly real."—Entertainment Weekly

Friday, Aug 10, 2012
Tell Me More is reading literature from countries on the rise in the global arena: the so-called BRICS nations � Brazil, Russia, India, China and South Africa. Sana Krasikov's short story collection, One More Year, focuses on Russia. She talks with host Michel Martin about her characters and what it takes to make it in Russia. More at NPR.org