Twenty Fragments of a Ravenous Youth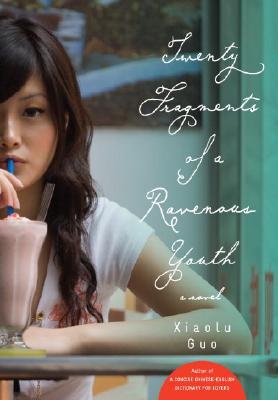 Twenty Fragments of a Ravenous Youth
Nan A. Talese, Hardcover, 9780385525923, 176pp.
Publication Date: August 5, 2008
* Individual store prices may vary.
Buy at Local Store
Enter your zip code below to purchase from an indie close to you.
or
Not Currently Available for Direct Purchase
Description
From the author of the 2007 Orange Prize finalist A Concise Chinese-English Dictionary for Lovers comes a wholly original and thoroughly captivating coming-of-age story that follows a bright, impassioned young woman as she rushes headlong into the maelstrom of a rapidly changing Beijing to chase her dreams.

Twenty-one year old Fenfang Wang has traveled one thousand eight hundred miles to seek her fortune in contemporary urban Beijing, and has no desire to return to the drudgery of the sweet potato fields back home. However, Fenfang is ill-prepared for what greets her: a Communist regime that has outworn its welcome, a city under rampant destruction and slap-dash development, and a sexist attitude seemingly more in keeping with her peasant upbringing than the country's progressive capital. Yet Fenfang is determined to live a modern life. With courage and purpose, she forges ahead, and soon lands a job as a film extra. While playing roles like woman-walking-over-the bridge and waitress-wiping-a-table help her eke out a meager living, Fenfang comes under the spell of two unsuitable young men, keeps her cupboard stocked with UFO noodles, and after mastering the fever and tumult of the city, ultimately finds her true independence in the one place she never expected.

At once wry and moving, Twenty Fragments of a Ravenous Youth gives us a clear-eyed glimpse into the precarious and fragile state of China's new identity and asserts Xiaolu Guo as her generation's voice of modern China.
About the Author
XIAOLU GUO was born in a fishing village in southern China. After graduating from the Beijing Film Academy, she wrote several books published in China before she moved to London in 2002. She was awarded the Grand Jury Prize at the 2007 International Women's Film Festival for her first feature "How Is Your Fish Today?," and is the recipient of the prestigious Cannes Film Festival Cinefondation Residency grant based in Paris. A Concise Chinese-English Dictionary for Lovers, her first novel published in the U.S., was shortlisted for the 2007 Orange Broadband Prize for Fiction. She divides her time between London and Beijing, and is at work on a new novel.
Praise For Twenty Fragments of a Ravenous Youth…
"Twenty Fragments resembles a Chekhov story in containing, under its brief, chatty surface, an enormous world. … It's a little book that's so moving, you'll want to read it twice."
–Chicago Sun-Times

"Xiaolu Guo's energetic new novel, Twenty Fragments of a Ravenous Youth, puts a personal face on this enormous country. …  Guo gives us Fenfang Wang, the book's endearing heroine, a young woman whose dynamic narration offers an intriguing glimpse into what it means to come of age in China  …. [And] touches effectively on themes of home, family, caste and destruction in the name of progress."
–San Francisco Chronicle

"Outraged, outrageous, sometimes very funny… It holds up."
–Washington Post

"Guo's edgy, staccato voice, wrought with an engaging raw energy, offers fresh insights into the drudgeries and dreams of independently minded young Chinese today, and new perspectives on the potentials and problems of China to come."
–National Geographic Traveler

"[B]eautifully detailed … this is a work of fiction that's both fresh and timeless."
–Salon.com

"Twenty Fragments of a Ravenous Youth is serious, well-crafted, deeply human."
–Orlando Sentinel

"[L]yrical and rich, Guo creates something poetic and gritty that feels very true."
–Bookpage

"A coming-of-age tale… a love story…. a family saga…. a dizzying tour of contemporary Beijing: Twenty Fragments of a Ravenous Youth is all this and more, artfully portrayed by author Xiaolu Guo in 164 short but captivating pages. Guo poignantly captures the confusion and apathy of a young 20-something attempting to forge her identity in a rapidly changing society."
–The Free-Lance Star (Fredericksburg, VA)

"[A]n engrossing portrait of a chamingly chaotic young woman. A-"
–Entertainment Weekly

"Boasting startling frankness and streetwise slang, Xiaolu Guo's [Twenty Fragments of a Ravenous Youth] offers an insider's view of what it means to be young in modern Beijing. It's tempting to greedily gobble up this slim coming-of-age narrative, much like the chive dumpling its heroine cannot get enough of."
–Kirkus Reviews

"Guo beautifully captures the sense of a young girl struggling to forge a life. Fenfang's voice is bracing and welcome."
–Publishers Weekly

"Xiaolu Guo's own experience as a film writer is clearly noticeable in the detailed yet compact, stylized writing found in this piece…Guo's coming-of-age story provides a modern perspective to the characterization of women in both Chinese society and the literature of today."
–Library Journal

"A remarkably atmospheric, metaphoric, and piquant novel of personal and cultural metamorphosis."
–Booklist