Searching for Schindler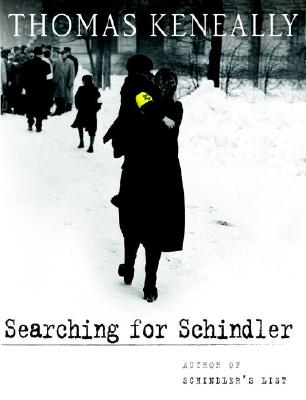 Searching for Schindler
A Memoir
Nan A. Talese, Hardcover, 9780385526173, 272pp.
Publication Date: October 14, 2008
* Individual store prices may vary.
Buy at Local Store
Enter your zip code below to purchase from an indie close to you.
or
Not Currently Available for Direct Purchase
Description
This is the captivating story behind "Schindler's List," the Booker Prize winning book and the Academy Award winning Spielberg film. Keneally tells the tale of the unlikely encounter that propelled him to write about Oskar Schindler and of the impact of his extraordinary account on people around the world.
Thomas Keneally met Leopold Poldek Pfefferberg, the owner of a Beverly Hills luggage shop, in 1981. Poldek, a Polish Jew and a Holocaust survivor, had a tale he wanted the world to know. Charming, charismatic, and persistent, he convinced Keneally to relate the incredible story of the all-drinking, all-screwing, all-black-marketeering Nazi, Oskar Schindler. But to me he was Jesus Christ.
"Searching for Schindler" is the engrossing chronicle of Keneally's pursuit of one of history's most fascinating and paradoxical heroes. Traveling throughout the United States, Germany, Israel, Poland, and Austria, Keneally and Poldek interviewed people who had known Schindler and uncovered their indelible memories of the Holocaust. Keneally's powerful narrative rose quickly to the top of bestseller lists. Steven Spielberg's magnificent film adaptation went on to fulfill Poldek's dream of winning an Oscar for Oskar. (Keneally's anecdotes about Spielberg, Liam Neeson, Ben Kingsley, and other cast members will delight film buffs.)
Written with candor and humor, "Seaching for Schindler" is an intimate look at Keneally's growth as a writer and the enormous success of his portrait of Oskar Schindler.
About the Author
Thomas Keneally began his writing career in 1964 and has publishedthirty-one novels since. They include "Schindler s List", which won the Booker Prize in 1982, "The Chant of Jimmie Blacksmith", "Gossip from the Forest", and "Confederates", " "all of which were shortlisted for the Booker Prize, and the "New York Times"bestselling"The Daughters of Mars". He has also written several works of nonfiction, including his boyhood memoir, "Homebush Boy", " The Commonwealth of Thieves", " "and "Searching for Schindler." He is married with two daughters and lives in Sydney, Australia.
Praise For Searching for Schindler…
"Had I read Searching for Schindler before making the film, I may have made it an hour longer. I owe you so much. The world owes you more."
—Steven Spielberg

"In this touching and often humorous memoir, [Keneally] recounts months traveling to Germany, Israel, Austria, the U.S. and Poland with Poldek to interview 'Schindlerjuden' - the survivors rescued by Schindler…. Keneally engages the reader with tales about himself as well. He writes about becoming a novelist, his creative anxieties that fueled the writing process, his experiences with publishers and the toll writing the book took on him and his family. Hollywood anecdotes about Spielberg and the film's stars, including Liam Neeson, Ben Kingsley and Ralph Fiennes, provide a fascinating insider view of how movies are made. What's hard to fathom is that before Keneally walked into Poldek's shop nearly three decades ago, Schindler was hardly known. This is the story of how that changed forever."
-USA Today

"The Australian author is a genial, unaffected companion in this leisurely voyage around Schindler's List (1982)…. In prose so clear it glistens, he describes working on early drafts of the screenplay with Steven Spielberg (who eventually, gently, fired him) and the production of the film, much of which he observed…. An essential companion to the original novel."
–Kirkus Reviews

"Keneally provides some interesting insights into the process of turning a series of decades-old remembrances into a great book. The strength of this work, however, are the stories of the survivors and their efforts to live with a degree of normalcy."
-Booklist

"The star of Searching for Schindler, from beginning to end, is not Mr. Keneally but Mr. Page [the Holocaust survivor who introduced Mr. Keneally to Schindler's story]. He begs, he exhorts, he presses money into the hands of the needy, he opens every door Mr. Keneally needs opened, often through sheer force of will and personality. He even turns out to be friendly with Leah Adler, Mr. Spielberg's mother, from the kosher dairy restaurant she ran in Beverley Hills. Next to him Mr. Keneally seems like a wallflower. Both the comedy and the horror contained in this memoir are present in a throwaway comment Mr. Page makes to Mr. Keneally: 'You wouldn't have lasted two weeks with the Nazis. They loved killing guys like you. Poetic guys.'"
-The New York Times