Blindspot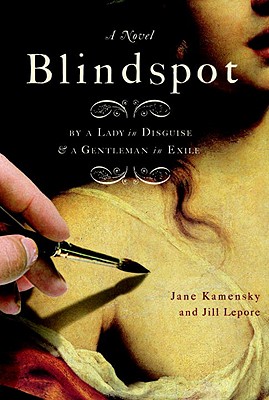 Blindspot
Spiegel & Grau, Hardcover, 9780385526197, 512pp.
Publication Date: December 9, 2008
* Individual store prices may vary.
Not Currently Available for Direct Purchase
or
Shop Local
Enter your zip code below to purchase from an indie close to you.
Description
"Tis a small canvas, this Boston," muses Stewart Jameson, a Scottish portrait painter who, having fled his debtors in Edinburgh, has washed up on America's far shores. Eager to begin anew in this new world, he advertises for an apprentice, but the lad who comes knocking is no lad at all. Fanny Easton is a lady in disguise, a young, fallen woman from Boston's most prominent family. "I must make this Jameson see my artist's touch, but not my woman's form," Fanny writes, in a letter to her best friend. "I would turn my talent into capital, and that capital into liberty."

Liberty is what everyone's seeking in boisterous, rebellious Boston on the eve of the American Revolution. But everyone suffers from a kind of blind spot, too. Jameson, distracted by his haunted past, can't see that Fanny is a woman; Fanny, consumed with her own masquerade, can't tell that Jameson is falling in love with her. The city's Sons of Liberty can't quite see their way clear, either. "Ably do they see the shackles Parliament fastens about them," Jameson writes, "but to the fetters they clasp upon their own slaves, they are strangely blind."

Written with wit and exuberance by longtime friends and accomplished historians Jane Kamensky and Jill Lepore, Blindspot weaves together invention with actual historical documents in an affectionate send-up of the best of eighteenth-century fiction, from epistolary novels like Richardson's Clarissa to Sterne's picaresque Tristram Shandy. Prodigiously learned, beautifully crafted, and lush with the bawdy, romping sensibility of the age, Blindspot celebrates the art of the Enlightenment and the passion of the American Revolution by telling stories we know and those we don't, stories of the everyday lives of ordinary people caught up in an extraordinary time.
About the Author
Jane Kamensky is a professor of American history and chair of the History Department at Brandeis University. She is the author of The Exchange Artist and Governing the Tongue, among other books. Her scholarship has been supported by grants from the National Endowment for the Humanities and the Andrew W. Mellon Foundation. She is currently writing a biography of the eighteenth-century American portrait painter Gilbert Stuart. She lives in Cambridge, Massachusetts, with her husband and two sons.

Jill Lepore is the David Woods Kemper '41 Professor of American History at Harvard University, where she is the chair of the History and Literature Program. She is also a regular contributor to The New Yorker. Her books include The Name of War and A Is for American. Her most recent book, New York Burning, was a finalist for the Pulitzer Prize. She lives in Cambridge, Massachusetts, with her husband, three sons, and an extraordinarily large and formidable dog of entirely mysterious extraction.
Praise For Blindspot…
"A rip-roaring yarn, a real romp; these pals may be professors, but their novel is about as dry as two little boys in one big puddle. . . ambitious as well as fun. . . It's fantastic–the romance novel of your dreams."—Newsday

"Both frisky and learned . . . a treat."—Washington Post

"A lusty romance, a murder mystery, and a bit of Americana, all rolled into one big, fat historical romp. . . Lepore and Kamensky have recreated a fascinating world and brought history hotly alive."—San Francisco Chronicle

"At once a tender love story, a murder mystery, and a brilliant portrait of a turbulent time."—Library Journal, starred review and Editor's Pick

"A portrait of pre-Revolutionary Boston that is true to the spirit of the time while inventing a couple of romantic, witty, down-on-their-luck, larger-than-life characters struggling to stay afloat in tumultuous times."—Wall Street Journal

"The authors capture the florid prose and brassy banter of their pre-Revolutionary Bostonian subjects with imagination and verisimilitude."—Rocky Mountain News

"A very smart book. . . captured colonial America's wit and vulgarity, its sensibility, sensuality, and snobbery."—San Diego Union Tribune