In Pursuit of Elegance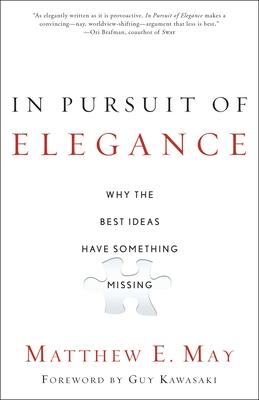 In Pursuit of Elegance
Why the Best Ideas Have Something Missing
Crown Business, Paperback, 9780385526500, 224pp.
Publication Date: September 7, 2010
* Individual store prices may vary.
Buy at Local Store
Enter your zip code below to purchase from an indie close to you.
or
Not Currently Available for Direct Purchase
Description
What made the Sopranos finale one of the most-talked-about events in television history?

Why is sudoku so addictive and the iPhone so darn irresistible?

What do Jackson Pollock and Lance Armstrong have in common with theoretical physicists and Buddhist monks?

Elegance.

In this thought-provoking exploration of why certain events, products, and people capture our attention and imaginations, Matthew E. May examines the elusive element behind so many innovative breakthroughs in fields ranging from physics and marketing to design and popular culture. Combining unusual simplicity and surprising power, elegance is characterized by four key elements—seduction, subtraction, symmetry, and sustainability. In a compelling, story-driven narrative that sheds light on the need for elegance in design, engineering, art, urban planning, sports, and work, May offers surprising evidence that what's "not there" often trumps what is.

In the bestselling tradition of The Tipping Point, Made to Stick, and The Black Swan, In Pursuit of Elegance will change the way you think about the world.
About the Author
Matthew E. May is the author of four critically acclaimed books, including The Laws of Subtraction and The Elegant Solution. He is an internationally recognized strategy facilitator, innovation coach, and lean trainer whose clients include Toyota, ADP, Intuit, and Xerox. A regular contributor to publications such as Fast Company, his work has also appeared in The New York Times, Strategy+Business, and ChangeThis.com.

Guy Kawasaki is the former Chief Evangelist of Apple and cofounder of Alltop.com. He is the author of 11 other books, including "Enchantment", "Reality" "Check", "The Art of the Start", "Rules for Revolutionaries", "How to Drive Your Competition" "Crazy", and "The Macintosh Way".Attract
Praise For In Pursuit of Elegance…
Advance Praise for In Pursuit of Elegance

"In Pursuit of Elegance is a fascinating intellectual romp that will change the way you look at your surroundings. As he takes readers from Jackson Pollock paintings to Dutch intersections to the secret menu at In-N-Out Burger, Matt May reveals the hidden elements beneath genuine innovation. This book is surprising, compelling, and, yes, extremely elegant."
—Daniel H. Pink, author of A Whole New Mind and The Adventures of Johnny Bunko

"As elegantly written as it is provocative, In Pursuit of Elegance makes a convincing—nay, worldview-shifting—argument that less is best."
—Ori Brafman, coauthor of Sway

"Enlightening. Makes a compelling case for doing more with less by optimizing the expenditure of one's assets and resources. That's something anyone can and should put into practice."
—Kevin Hunter, president, CALTY Design Research, Inc., Toyota Design Network

"What a masterpiece! The definitive guide to the 'less is more' mind-set. I meant to only take a quick glance at In Pursuit of Elegance, but once I started reading it, I couldn't stop. In a world where everything keeps getting more complicated and overwhelming, Matthew May shows us that if we start looking for things to take out, things to stop doing, and intelligent shortcuts, we will all be happier, do superior work, and live in a better world."
—Robert I. Sutton, Stanford professor and author of The No Asshole Rule