The Man Who Invented the Computer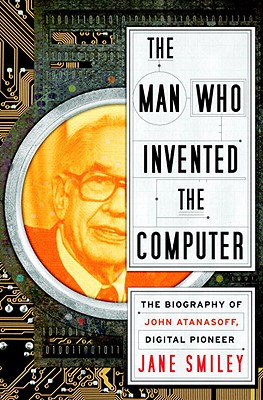 The Man Who Invented the Computer
The Biography of John Atanasoff, Digital Pioneer
Doubleday Books, Hardcover, 9780385527132, 256pp.
Publication Date: October 19, 2010
* Individual store prices may vary.
Buy at Local Store
Enter your zip code below to purchase from an indie close to you.
or
Not Currently Available for Direct Purchase
Description
From one of our most acclaimed novelists, a  David-and-Goliath biography for the digital age.

One night in the late 1930s, in a bar on the Illinois–Iowa border, John Vincent Atanasoff, a professor of physics at Iowa State University, after a frustrating day performing tedious mathematical calculations in his lab, hit on the idea that the binary number system and electronic switches, com­bined with an array of capacitors on a moving drum to serve as memory, could yield a computing machine that would make his life and the lives of other similarly burdened scientists easier. Then he went back and built the machine. It worked. The whole world changed.

Why don't we know the name of John Atanasoff as well as we know those of Alan Turing and John von Neumann? Because he never patented the device, and because the developers of the far-better-known ENIAC almost certainly stole critical ideas from him. But in 1973 a court declared that the patent on that Sperry Rand device was invalid, opening the intellectual property gates to the computer revolution.

Jane Smiley tells the quintessentially American story of the child of immigrants John Atanasoff with technical clarity and narrative drive, making the race to develop digital computing as gripping as a real-life techno-thriller.
About the Author
Jane Smiley is the author of nine previous works of fiction, including The Age of Grief, The Greenlanders, Ordinary Love & Good Will, A Thousand Acres (for which she was awarded the Pulitzer Prize), and Moo. She lives in northern California.
Praise For The Man Who Invented the Computer…
PRAISE FOR THE MAN WHO INVENTED THE COMPUTER:

"Engrossing.  Smiley takes science history and injects it with a touch of noir and an exciting clash of vanities."--Kirkus Reviews

"Novelist Jane Smiley shines her talent on the underappreciated career of John Atansanoff, the man recognized as creating the first computer… . It's a rare treat to read a book about digital science in the language of an acclaimed prose stylist."—Bloomberg Businessweek
 
"[Jane Smiley] follows the John McPhee-perfected recipe for historical journalism nicely and with élan:  take an abstruse subject, research it deeply, then humanize it tenderly, adding off-kilter insights and sharp portraits of the curious folks involved....  Smiley blends all these convergent and parallel narratives into a superb whole, as fetching and gripping as any novel. She displays an unwavering, cogent grasp of all the technical details, a keen eye for historical forces, and much psychological insight; her prose is a model of smooth transparency. Anyone who wants to understand the roots of our twenty-first century digital culture needs to read this book."—Paul Di Filippo, Barnes & Noble Review