Brodeck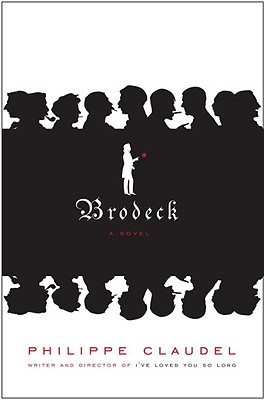 Brodeck
A novel
Nan A. Talese, Hardcover, 9780385527248, 336pp.
Publication Date: June 23, 2009
* Individual store prices may vary.
Buy at Local Store
Enter your zip code below to purchase from an indie close to you.
or
Not Currently Available for Direct Purchase
Description
Forced into a brutal concentration camp during a great war, Brodeck returns to his village at the war's end and takes up his old job of writing reports for a governmental bureau. One day a stranger comes to live in the village. His odd manner and habits arouse suspicions: His speech is formal, he takes long, solitary walks, and although he is unfailingly friendly and polite, he reveals nothing about himself. When the stranger produces drawings of the village and its inhabitants that are both unflattering and insightful, the villagers murder him. The authorities who witnessed the killing tell Brodeck to write a report that is essentially a whitewash of the incident.
As Brodeck writes the official account, he sets down his version of the truth in a separate, parallel narrative. In measured, evocative prose, he weaves into the story of the stranger his own painful history and the dark secrets the villagers have fiercely kept hidden.
Set in an unnamed time and place, Brodeck blends the familiar and unfamiliar, myth and history into a work of extraordinary power and resonance. Readers of J. M. Coetzee's Disgrace, Bernhard Schlink's The Reade,r and Kafka will be captivated by Brodeck.
About the Author
PHILIPPE CLAUDEL is the author of many novels, among them "By a Slow River," which has been translated into thirty languages and was awarded the Prix Renaudot""in 2003 and the "Elle "Readers' Literary prize in 2004. His novel "La Petite Fille de Monsieur Linh" was published in 2005, and "Brodeck" won the Prix Goncourt des Lyceens in 2007. Claudel also wrote and directed the film "I've Loved You So Long" starring Kristin Scott Thomas and Elsa Zylberstein, which opened in movie theaters in the United States in the fall of 2008 and in thirty other countries around the world.
Praise For Brodeck…
Winner of the 2010 Independent Foreign Fiction Prize!

"Although Claudel had long been respected as a novelist in France, only two of his previous books, By a Slow River and Grey Souls, had been translated into English. Now his latest novel, Brodeck, arrives like a fresh, why-haven't-we-known-him discovery, revealing him to be as dazzling on the page as he is on the screen.... Brodeck is the Brothers Grimm by way of Kafka.... [Claudel] audaciously approaches a subject that seems thoroughly covered and makes it fresh. His nightmarish fairy tale captures the essential, inescapable evil at the center of the Holocaust, the human urge to destroy Others ... a compulsion existing beyond time, place or politics."
—The New York Times Book Review

"Coming across as the love child of Bela Tarr's film Werckmeister Harmóniák and Gabriel García Márquez's 'A Very Old Man with Enormous Wings,' this disconcerting and darkly atmospheric novel, set in an unnamed European town secluded high in the mountains, deals with the effects of collective guilt by examining the dark secrets of its residents as they recall the hardships of war and occupation. Following the end of an unspecified war that sounds very much like WWII, protagonist Brodeck, who survived the camps by literally becoming a guard's pet (Brodeck the Dog), is reunited with his wife and daughter. After the murder of a mystical drifter, Brodeck is made to write a narrative of the events for the authorities absolving the village's inhabitants of any blame. Though there are no innocents, by the end some characters make tentative footsteps toward reclaiming their humanity. Claudel's style is very visual and evocative (he also wrote and directed the film I've Loved You So Long), and this novel, like the brothers Grimm fables, is full of terror, horror, and beauty and wonder."
—Publishers Weekly (starred review)

"A beautiful, sinister and haunting fable of persecution, resistance and survival. It is set in the aftermath of genocidal war in a vividly etched rural landscape that has all the spine-tingling intensity of a waking dream. . . . Claudel prevailed with his hallucinatory story—almost a dark fairy-tale in which Kafka meets the Grimms—of an uneasy homecoming after wrenching tragedy. . . . Written with a lyrical but solemn grace to which John Cullen's English does rich justice, this book both is, and is not, a novel about the moral wastelands left behind by the Holocaust and other modern killing-fields." 
—The Independent
 
"Deeply wise and classically beautiful…. Brodeck won the Prix Goncourt des Lycéens in the original French and John Cullen's English translation is as clear as a mountain stream. It is a modern masterpiece."
—The Daily Telegraph
 
 "This is a remarkable novel, all the more so because this account of man's inhumanity to man, of coarse and brutal stupidity, of fear and surrender to evil, is nevertheless not without hope. Brodeck survives because, despite all he has experienced, he remains capable of love. It is also beautifully written, and well translated… I mentioned Kafka earlier, and the novel is as compelling as anything he wrote. In France it won the Prix Goncourt des Lycéens. The reviewer in Le Monde called it, simply, magnificent. And so it is."
—The Scotsman

"[O]riginal, brilliant and disturbing… It is a relentless, uncomfortable book that achieves a beauty of its own through Claudel's deft writing and passionate commitment to truth. Claudel is a novelist of ideas, in the French tradition. He deals skillfully in archetypes and abstractions. His characters and their village are sparsely sketched, just like the De Anderer portraits and landscapes that cause such fatal offence.
"Clauel's film] I've Loved You So Long was certainly an upsetting film, but it was also life-affirming and celebratory. The same, ultimately, can be said of Brodeck but, in this case, the journey towards affirmation is as bleak and dark as can be, a journey that goes to the heart of what it means to be human, responsible and committed to the truth. A journey towards what it means to live a life that is something rather than nothing at all."
—The Times
 
"In John Cullen's deft translation, Claudel's writing is lucid and passionate…. [An] excellent novel."
—The Guardian
 
"….a grave, powerful, unforgettable book."
—Livres Hebdo
 
"In a finely-wrought style…Philippe Claudel describes a terrible world where crime is a natural function of the living."
—Le Magazine-Littéraire
 
"Philippe Claudel is at the peak of his art as a storyteller and portrait-painter."
—Elle (France)
 "Don't expect to get out of this powerful, disturbing novel unscathed….Long after you close the book, you'll remember its words, which always sound like terribly accurate reflections of our doubts as well as our fears."
—Lire
 
"In Brodeck, Philippe Claudel delves deep into his obsession with the theme of hatred for the other and with the evil perpetrated in the name of that hatred. His writing, free from any trace of pathos, is astonishingly virtuosic and beautiful, and his humanist stance is all the stronger for it. Unforgettable."
—L'Express
 
"….a meditation upon the hatred of the foreigner, the rejection of difference, the blindness of crowds, group stupidity, collective cowardice. Once again, Philippe Claudel plumbs the black depths of the human heart, with contained fury and deliberate humility….In the end, this is simply very great literature."
—Le Parisien