Our Lady of Guadalupe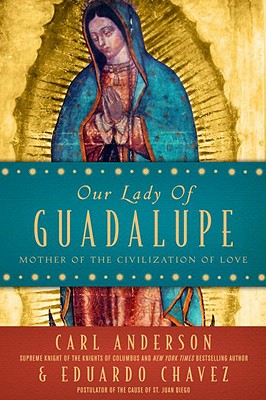 Our Lady of Guadalupe
Mother of the Civilization of Love
Doubleday Religion, Hardcover, 9780385527729, 256pp.
Publication Date: August 4, 2009
* Individual store prices may vary.
Not Currently Available for Direct Purchase
or
Shop Local
Enter your zip code below to purchase from an indie close to you.
Description
Nearly a decade after Spain's conquest of Mexico, the future of Christianity on the American continent was very much in doubt. Confronted with a hostile colonial government and Native Americans wary of conversion, the newly-appointed bishop-elect of Mexico wrote to tell the King of Spain that, unless there was a miracle, the continent would be lost. Between December 9 and December 12, 1531, that miracle happened, and it forever changed the future of the continent.

It was then that the Virgin Mary famously appeared to a Native American Christian convert on a hilltop outside of what is now Mexico City. The image she left imprinted on his cloak or tilma has puzzled scientists for centuries, and yet Our Lady of Gudalupe's place in history is profound. A continent that just months before the apparitions seemed completely lost to Christianity suddenly and inexplicably embraced it by the millions. Our Lady of Guadalupe's message of love replaced the institutionalized violence of the Aztec culture, and built a bridge between two worlds — the old and the new — that were just ten years earlier engaged in brutal warfare.

Today, Our Lady of Guadalupe continues to inspire the devotion of millions.
From Canada to Argentina — and even beyond the Americas — one finds great devotion to her, and great appreciation for her message of love, unity and hope. Today reproductions of the Virgin's miraculous image can be seen throughout North and South America, in churches and homes, on billboards and even clothing apparel. Her shrine in Mexico City, where the miraculous image is housed to this day, is one of the most visited in the world.

In Our Lady of Guadalupe: Mother of the Civilization of Love, Anderson & Chavez trace the history of Our Lady of Guadalupe from the sixteenth century to the present discuss of how her message was and continues to be an important catalyst for religious and cultural transformation. Looking at Our Lady of Guadalupe as a model of the Church and Juan Diego as a model for all Christians who seek to answer Christ's call of conversion and witness, the authors explore the changing face of the Catholic Church in North, Central, and South America, and they show how Our Lady of Guadalupe's message was not only historically significant, but how it speaks to contemporary issues confronting the American continents and people today.
About the Author
Carl Anderson is one of the nation's leading experts on teaching writing to students in grades K-12. He dedicates his energies exclusively as an education consultant and writer. Carl recently worked for Teachers College Reading and Writing Project at Columbia University as a Lead Staff Developer, providing staff development in the teaching of writing grades K - 8. He spent school days in New York City elementary and middle schools demonstrating effective teaching in the writing workshop and coaching teachers. He gave day-long workshops for teachers at Teachers College on launching the writing workshop, conferring with student writers, mini-lessons, and developing curriculum for the writing workshop. As a national consultant, Carl works with schools, districts and educational organizations around the country. He is known for his keynote speeches and courses at writing institutes as well as for his presentations at national conferences. Carl also taught for eight years in the Bronx, New York, Bardstown, Kentucky and Northbrook, Illinois in grades five to eight. In his book, How's It Going? A Practical Guide to Conferring with Student Writers, Carl leads readers through the challenging but essential terrain of learning to confer with student writers. The book includes an in-depth discussion of the teacher's role in conferences, strategies for teaching students to take an active role, ways to weave literature, mini-lessons, classroom management strategies, and responses to the most frequently asked questions about conferring. Carl also authored Assessing Writers and the series Strategic Writing Conferences: Smart Conversations that Move Young Writers Forward Grades 3-6.

Eduardo Ch vez is one of the most renowned experts on the Guadalupe apparitions and the first dean of the Catholic University Lumen Gentium of the Archdiocese of Mexico.