The Man From Saigon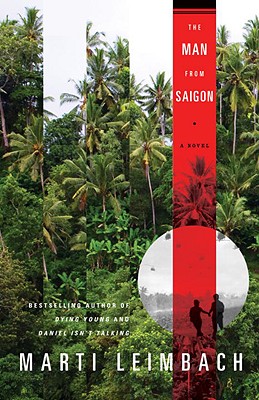 The Man From Saigon
Nan A. Talese, Hardcover, 9780385529860, 352pp.
Publication Date: February 23, 2010
* Individual store prices may vary.
Buy at Local Store
Enter your zip code below to purchase from an indie close to you.
or
Not Currently Available for Direct Purchase
Description
An enthralling and beautiful new novel about love and allegiance during the Vietnam War, from the author of Daniel Isn't Talking and Dying Young. 

 It's 1967, and Susan Gifford is one of the first female correspondents on assignment in Saigon, dedicated to her job and passionately in love with an American TV reporter. Son is a Vietnamese photographer anxious to get his work into the American press. Together they cover every aspect of the war from combat missions to the workings of field hospitals. Then one November morning, narrowly escaping death during an ambush, Susan and Son find themselves the prisoners of three Vietcong soldiers who have been separated from their unit.

Now, under constant threat from American air strikes, helpless in the hands of the enemy, they face the daily hardships of the jungle together. As time passes, the bond between Susan and Son deepens, and it becomes increasingly difficult for Son to harbor the secret that could have profound consequences for them both.
About the Author
MARTI LEIMBACH is the author of several novels, including the international bestseller "Dying Young," which was made into a major motion picture starring Julia Roberts, and, most recently, "Daniel Isn't Talking." Born in Washington, D.C., she currently lives in England and teaches in Oxford University's creative writing program.
Praise For The Man From Saigon…
"There is something familiar, almost reassuringly so, about the elements of this fast-paced, vividly descriptive novel. . . The ingredients that decades ago proved so seductively vertiginous and surreally dislocating in [Apocalypse Now] flavor [The Man From Saigon]. . . An atmosphere of deception and self-deception permeates this book. . . Leimbach's emphasis on a female reporter in a war that was so often covered by men is refreshing."
—The New York Times Book Review

"Leimbach vividly recreates the chemical strafing of the countryside, the misery of the refugee camps and the suffocating humidity of the jungle. This impressive novel finds a new way of illuminating the horrors of an old war."
—People, 3.5 of 4 stars

"Vivid and powerful. . . Leimbach masterfully conjures the hothouse atmosphere of foreign correspondents in Saigon in the late 1960s, and in Susan she has created a heroine who is a worthy counterpart to the real life reporters who covered the war. Whether describing a convoy taking fire, a farcical press briefing, a quiet moment between Susan and Marc, or the ironic aftermath of Susan's ordeal, Leimbach expertly captures the contradictions of the war, making this a solid addition to the literature of an endlessly reconsidered conflict."
−Publishers Weekly, starred review

"You might question the ambition of a contemporary novelist electing to set a story in the Vietnam War era, but after you find (as I did) that you simply cannot put down The Man from Saigon, you question no more.  Leimbach's mastery of place, of the scents, sounds, terrors and sorrows  of  that time reminded me as  perhaps only a great novel can that that we are never done with a war even when it is long over, and that only wars and love endure."  
—Dr. Abraham Verghese, author of Cutting for Stone

"The Man from Saigon is stunning — so visual, so sensual and sharply realized. Almost nothing else could interest me in another book about that war, but by writing about a woman reporter in Vietnam, Leimbach makes its dark history brilliantly new."
—Karen Connelly, author of The Lizard Cage

"From Tim O'Brien and Denis Johnson to Bao Ninh, the war in Vietnam gave rise to long shelf of fine fiction. In this novel, set in Saigon and the jungle battlefields of 1967, Marti Leimbach nods to forerunners but still finds a path of her own through the maze of lies and fear. Susan, her British-raised front-line reporter, is taken prisoner by Vietcong along with her enigmatic photographer, Son. Scenes from the frenzied 'theatre of extremes' she has left in the city, and of a tightly-strung affair with married colleague Marc, alternate with scarily sensuous evocations of her torrid captivity. Emotionally rich, viscerally intense, the novel revisits a familiar terrain but finds ways to see it anew."
—The Independent

"Leimbach does an impressive job of evoking the frenetic chaos of Saigon and the claustrophobia and suffocating humidity of the dense jungle, while her story has a vivid immediacy as it flashes backwards and forwards in a deliberately disorienting fashion. The result is intense and gripping."
—Daily Mail

 Praise for Marti Leimbach's Daniel Isn't Talking

 "A tearful, joyful novel." —Time

 "Gripping. . . Leimbach has a gift for emotionally searing fiction leavened with humor." —People

 "Timely and uplifting." —The New York Times Book Review

 "Hard to put down. . . Leimbach's strength is in creating characters who are human and fallible and become imbedded in your heart." —USA Today

 "Amazing. . . [A book about] tangled relationships, compassionate moments, fear and joy. . . and along the way there are moments of grace. . . Gives us reason to hope." —The Washington Post

 "Beautifully crafted and immensely touching." —The Guardian (London)