How I Killed Pluto and Why It Had It Coming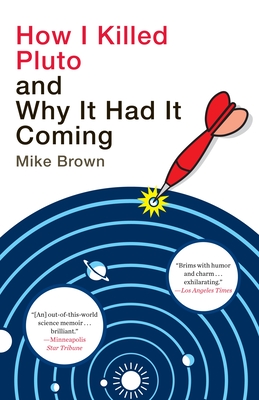 How I Killed Pluto and Why It Had It Coming
Spiegel & Grau, Paperback, 9780385531108, 271pp.
Publication Date: January 24, 2012
* Individual store prices may vary.
Buy at Local Store
Enter your zip code below to purchase from an indie close to you.
or
Buy Here
Description
The solar system most of us grew up with included nine planets, with Mercury closest to the sun and Pluto at the outer edge. Then, in 2005, astronomer Mike Brown made the discovery of a lifetime: a tenth planet, Eris, slightly bigger than Pluto. But instead of adding one more planet to our solar system, Brown's find ignited a firestorm of controversy that culminated in the demotion of Pluto from real planet to the newly coined category of dwarf planet. Suddenly Brown was receiving hate mail from schoolchildren and being bombarded by TV reporters all because of the discovery he had spent years searching for and a lifetime dreaming about.
A heartfelt and personal journey filled with both humor and drama, "How I Killed Pluto and Why It Had It Coming" is the book for anyone, young or old, who has ever imagined exploring the universe and who among us hasn t?
About the Author
Captain Virginia Beach Fire Dept. and the Virginia Department of Fire Programs, Heavy and Tactical Rescue Team. Co-founder of the Tidewater Regional Technical Rescue Team, and Rescue Team Manager with FEMA's Urban Search and Rescue Task Force VA-TF2. National Fire Protection Association member of the Technical Committee for Technical Rescue #1670 and Ropes Harnesses and Ancillary Equipment #1983-95. Member International Society of Fire Service Instructors, and Department of Fire Programs Fire Instructor IV, charter member Virginia's Heavy and Tactical Rescue Team. FEMA (Federal Emergency Management Agency) Rescue Specialist Instructor, and FasT Team Member. Partner in Spec. Rescue International, A High Performance Technical Rescue Training and Consultation Team.
Praise For How I Killed Pluto and Why It Had It Coming…
"Brims with humor and charm . . . exhilarating."—Los Angeles Times

"[An] out-of-this-world science memoir . . . brilliant . . . brings clarity and elegance to the complexities of planetary science. Brown is also a surprisingly self-effacing and entertaining genius."—Minneapolis Star Tribune

"Brown's brisk, enjoyable How I Killed Pluto and Why It Had It Coming chronicles the whole saga [of the demotion of Pluto] and, in the process, makes [its] sad fate easier to take. If we've lost a planet, we've gained a sprightly new voice for popular science."—The Wall Street Journal

"Eminently readable and entertaining . . . blends elements of sleuthing, international intrigue, and the awe and wonder intrinsic to the exploration of space."—The Oregonian
 
"An unlikely hybrid of Dennis Overbye's Lonely Hearts of the Cosmos and Anne Lamott's Operating Instructions."—The New York Times Book Review
 
"[Brown] might be the finest scientist alive today. . . . We're all better off for this man's breathtaking commitment to science."—The Boston Globe