Days That I'll Remember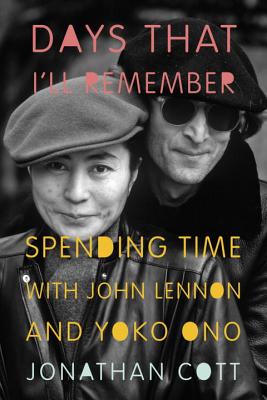 Days That I'll Remember
Spending Time with John Lennon and Yoko Ono
Doubleday Books, Hardcover, 9780385536370, 242pp.
Publication Date: February 12, 2013
* Individual store prices may vary.
Buy at Local Store
Enter your zip code below to purchase from an indie close to you.
or
Not Currently Available for Direct Purchase
Description
Jonathan Cott met John Lennon in 1968 and was friends with him and Yoko Ono until John's death in 1980. He has kept in touch with Yoko since that time, and is one of the small group of writers who understands her profoundly positive influence on Lennon. This deeply personal book recounts the course of those friendships over the decades and provides an intimate look at two of the most astonishing cultural figures of our time. And what Jonathan Cott has to say and tell will be found nowhere else.
About the Author
Jonathan Cott, a contributing editor at Rolling Stone magazine, is the author of several books, including Dinner with Lenny, Conversations with Glenn Gould, and Back to a Shadow in the Night, and is co-editor of The Ballad of John and Yoko.
Praise For Days That I'll Remember…
Advance Praise for DAYS THAT I'LL REMEMBER:

"Jonathan Cott is somebody we all know in our circle to be a quiet genius. Rolling Stone asked him to interview us a few times. This book is a collection of those interviews. Nothing more. Reading it, I thought 'Wow, we weren't bad at all.' Because most writers wanted to sensationalize us, thinking that if they didn't do that, it might be boring – and nobody would buy the book! So their 'interviews' usually came out nothing like what we were like.

I have never recommended any books about John and Yoko. But this book made me choke up. I heard John in my ears and felt him in my heart. This is a good book for Lennon fans. And I.. Well, I come out as the second banana (okay, okay!)
You will get an inkling of two people in love, sometimes making daring remarks, yet not forgetting to protect each other in the interviews.. In fact, this is really the way we were, folks! Have a good read. Yoko."— Yoko Ono
 

"This is a lovingly assembled and beautifully written collection of conversations, observations, and memories of music, friendship, and days gone by. It's good to be back again with John Lennon, his beloved Yoko Ono, and his trusted chronicler and friend Jonathan Cott."
— Martin Scorsese


"Jonathan Cott is in that rarified group of writers who have elevated the very idea of the interview.  His conversations with the wise, the brilliant, and the necessary are treasures.  He has that special ability to humanize people without destroying their magic.  Here he's done it again with John and Yoko.  Their humor, genius, eccentricities, and freely acknowledged flaws break through most of the clichés we have come to accept about them.  Cott has done them and us a very great favor."
—Richard Gere


"Rangy and revealing interview/conversations between Rolling Stone journalist Cott (Bob Dylan: The Essential Interviews, 2006, etc.) and John Lennon and Yoko Ono…. The pleasure is in hearing their voices, for it seems that the material is verbatim from recordings. It starts during that fraught period when the Beatles were breaking up but still producing game-changing music, and Lennon and Ono were coming in for much more than their share of grief: for their naïve and ludic ways, the experimental nature of their music, the dissolution of the band and the passing of a brilliant cultural moment. Cott engages with Ono's art, which could be challenging, and embraces its spirit of mindfulness and mirth while exploring how she managed to turn the vitriol spewed her way into a positive energy. But it is Lennon who commands the stage here, holding forth on the music he and Ono were making, bridling at the disservice of the press, explaining the bed-ins, the nude album cover, the deportation battles, the struggles with writing songs ("I always think there's nothing there, it's shit, it's not good, it's not coming out, it's garbage…") and the troubles of fame ("Do they want me and Yoko to kill ourselves onstage? What would make the little turds happy?"). Cott keeps the proceedings fluid and conversational…provides rare, raw and insightful comments from two colorful art personalities.  Lennon and Ono as open and naked as on the cover of Two Virgins."
—Kirkus Reviews


"[A] picture of a warm, considerate artist who was generous with both his time and talents, who continued to gravitate toward work that resonated with him and his partner, rather than his bank account or even the public at large. Cott does a solid job of creating intimacy between Lennon and the reader, something fans of the much-missed musician will likely relish."— Publishers Weekly