God Is.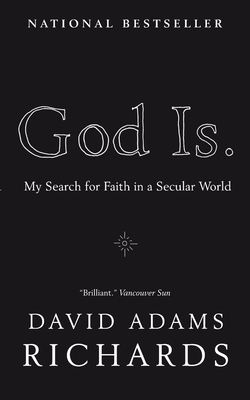 God Is.
My Search for Faith in a Secular World
Anchor Canada, Paperback, 9780385666527, 166pp.
Publication Date: March 23, 2010
* Individual store prices may vary.
Buy at Local Store
Enter your zip code below to purchase from an indie close to you.
or
Buy Here
Description
In this invaluable contribution to the continuing debate about religious belief, David Adams Richards offers an exhilaratingly fresh perspective and a voice more impassioned, heartfelt, and sometimes furious, than anything written about God by an atheist.
David Adams Richards, one of Canada's most beloved and celebrated authors, has been wrestling with questions of morality, faith, and religion ever since he was a child. They have always informed his fiction. Now he examines their role in his own life and spells out his own belief, in what is his most self-revealing work to date. With characteristic honesty, Richards charts his rocky relationship with his cradle Catholicism, his battles with personal demons, his encounters with men who were proud to be murderers, and the many times in his life when he has been witness to what he unapologetically calls miracles. In this subtly argued, highly personal polemic, David Adams Richards insists that the presence of God cannot be denied, and that many of those who espouse atheism also know that presence, though they would not admit it to anyone including themselves. Every follower of today's battle between faith and atheism, and every lover of David Adams Richards superb fiction, will find God Is revelatory.
I believe that all of us, even those who are atheists, seek God or at the very least not one of us would be unhappy if God appeared and told us that the universe was actually His creation. Oh, we might put Him on trial for making it so hard, and get angry at Him, too, but we would be very happy that He is here. Well, He is.
Questions of faith, morality, the role of unseen forces in our destinies, have been central to the fiction of David Adams Richards. Now he directly addresses what these questions have meant to him in his own life, and what he has come firmly to believe. He has always been a courageous and uncompromisingly honest writer but never more so than here.
"From the Hardcover edition.
About the Author
David Adams Richards' most recent novel, The Friends of Meager Fortune, won the Commonwealth Writers Prize for Best Book (Canada and the Caribbean). His novel River of the Brokenhearted, was received with immense critical acclaim. Mercy Among the Children won the 2000 Giller Prize and was nominated for the Governor General's Award and the Trillium Award. He is the author of the celebrated Miramichi trilogy: Nights Below Station Street, winner of the Governor General's Award; Evening Snow Will Bring Such Peace, winner of the Canadian Authors Association Award; and For Those Who Hunt the Wounded Down. His 1998 novel, The Bay of Love and Sorrows, has been made into a feature film.