Out of the Girls' Room and Into the Night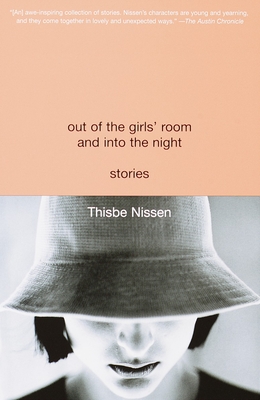 Out of the Girls' Room and Into the Night
Anchor Books, Paperback, 9780385720533, 208pp.
Publication Date: October 17, 2000
* Individual store prices may vary.
Buy at Local Store
Enter your zip code below to purchase from an indie close to you.
or
Not Currently Available for Direct Purchase
Description
In Thisbe Nissen's award-winning debut story collection, characters teeter on the verge of love, of life, of oncoming cataclysms after which Things Will Never Be the Same. Against the varied backdrops of Grateful Dead shows, anniversary parties, sickrooms, and bright Manhattan vestibules, Nissen traces the joy, terror, and electric surprise that flash between people as they suddenly connect. A fifteen-year-old girl whose mother is slowly dying finds solace in the bed of her best friend's older brother. A wife remembers the early romance in her marriage as she watches her husband's hand, shaky with Parkinson's, lift a bite of food to his mouth. Longtime friends are jolted by their unforeseen attraction to each other; new lovers feel their way by instinct in vans, on futons, an during risky, late-night conversation. Knowing, often hilarious, and always pitch-perfect, Nissen's tales hang inside those moments when the heart is acting and the head is watching, hopeful that the heart is doing the right thing.
About the Author
Erin Ergenbright and Thisbe Nissen met at the Iowa Writers' Workshop, where they spent many nights discussing gastronomic creations gained from ex-boyfriends and moved with their four cats into a farmhouse outside Iowa City where it was very cold in the winter. They ate frozen bagels, drank red wine, reminisced about their ex-boyfriends' culinary delights, and kept their fingers warm by collaging. Erin, Lucy, and Sinclair now live in Oregon. Thisbe, Fernanda, and Maisie remain in Iowa. Both Erin and Thisbe hope one day they will meet men they love as much as their cats, but they are not holding their breath.
Praise For Out of the Girls' Room and Into the Night…
"[An] awe-inspiring collection of stories. Nissen's characters are young and yearning, and they come together in lovely and unexpected ways." --The Austin Chronicle

"These are requiems for youth. . . . Nissen has a rare, poetic way with the short-story form." --The Hartford Courant