The Particular Sadness of Lemon Cake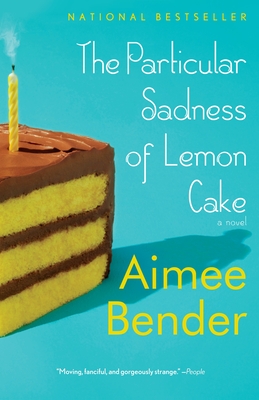 The Particular Sadness of Lemon Cake
Anchor Books, Paperback, 9780385720960, 292pp.
Publication Date: April 19, 2011
* Individual store prices may vary.
Buy at Local Store
Enter your zip code below to purchase from an indie close to you.
or
Buy Here
Description
On the eve of her ninth birthday, unassuming Rose Edelstein bites into her mother's homemade lemon-chocolate cake and discovers she has a magical gift: she can taste her mother's emotions in the slice. To her horror, she finds that her cheerful mother tastes of despair. Soon, she's privy to the secret knowledge that most families keep hidden: her father's detachment, her mother's transgression, her brother's increasing retreat from the world. But there are some family secrets that even her cursed taste buds can't discern.
About the Author
Aimee Bender is the author of the novels The Particular Sadness of Lemon Cake--a New York Times bestseller--and An Invisible Sign of My Own, and of the collections The Girl in the Flammable Skirt and Willful Creatures. Her works have been widely anthologized and have been translated into sixteen languages. She lives in Los Angeles.
Praise For The Particular Sadness of Lemon Cake…
"Moving, fanciful, and gorgeously strange." —People

"One of the year's highlights. Intense and compelling." —The Oregonian

"Marvelous. . . . Few writers are as adept as Bender at mingling magical elements so seamlessly with the ordinary." —San Francisco Chronicle
 
"A richly imagined, bittersweet tale." —Vanity Fair
 
"Convincing and elegant. . . . A novel with a deeply involving plot, one full of provocative ideas." —The Boston Globe
 
"Extraordinary. . . . Not just a deeply felt novel but one of the most inventive pieces of food writing in recent memory." —Time Out New York 

"Profound and eye-opening. . . . You feel—that rare and beautiful gift from a truly great book—woken up and unalone." —The Globe and Mail (Toronto)

"Rose is an irresistible narrator: warm, witty and sharply observant. . . . Exuberant, life-affirming." —The Miami Herald

"Oddly beautiful. . . . Will tempt you to see what talented writers can do when they rip little tears in the fabric of reality." —The Washington Post
 
"The fairy-tale elements in her writing, far from seeming outlandish, highlight the everyday nature of her characters' flaws and struggles. In Ms. Bender's stories and novels, relationships and mundane activities take on mythic qualities." —The Wall Street Journal
 
"Charming and wistful. . . .  [Rose] studies her world with the thoroughness of a scientist but records her observations with the eye and ear of a poet." —The Atlantic
 
"The fabulist elements of The Particular Sadness of Lemon Cake are stunning, but what makes this novel a keeper is the sheer beauty of the language Bender uses to describe love."  —NPR, "Books We Like"
 
"[The Particular Sadness of Lemon Cake] has the narrative momentum and clockwork plotting of any good mystery, but its bleak whimsy and clear-eyed rendering of domestic sorrow are Bender's own. . . .  Splendid." —The Plain Dealer
 
"Rose comes of age while unraveling family secrets as strangely lucid as they are nightmarish. At its core . . . The Particular Sadness of Lemon Cake encourages us all to make the most of our unique gifts while still finding a way to live in the so-called real world." —O, The Oprah Magazine
 
"A dreamy novel. . . . This is one of the most pleasant books we've read all year." —The New York Observer 

 "Deftly written. . . . There is a . . . sweetness to the book that turns it into something out of the ordinary." —St. Louis Post-Dispatch

"Bender is the master of quiet hysteria. . . . She builds pressure sentence by sentence. . . . A little hiss of steam comes off the novel." —Los Angeles Times

"A very special book." —The Anniston Star
 
"Bender doesn't write of ordinary people. She writes of magical creations, the things of fairy tales gone awry. . . . Part magic, part clean prose." —Denver Post
 
"If you've ever wondered why people have such a hard time looking in strangers' eyes as they walk down the street, this book, hard as it may be to face, is for you." —LA Weekly
 
"There's an evocative power in Bender's work that lingers with a reader." —The Christian Science Monitor
 
"[Bender] produce[s] stories that make one grateful for being ordinary." —The Seattle Times
 
"[A] gentle, kindhearted novel. There's a wistful quality to the almost fable-like tale that's captured with near perfection in her understated prose. As in all fine novels, the Edelsteins' story, in Aimee Bender's telling, is one that reflects our own world back to us in a fresh and revealing way." —Bookreporter.com
 
"The ultimate fact is that The Particular Sadness of Lemon Cake is probably the strangest book you'll never want to put down." —Pittsburgh Tribune
 
"Aimee Bender creates a lilting, economical and finally tragic portrait of what it means to be a child in her exquisite new novel." —Chicago Tribune
 
"Lemon Cake perfectly embodies Bender's knack for simultaneously appealing to imagination, emotion, and intellect, combining an out-of-this-world premise with very much in-this-world characters." —Portland Mercury
 
"Aimee Bender is also something of a sorceress who charges her stories with pure magic, and The Particular Sadness of Lemon Cake is an example of what she does best." —Jewish Journal