Good Faith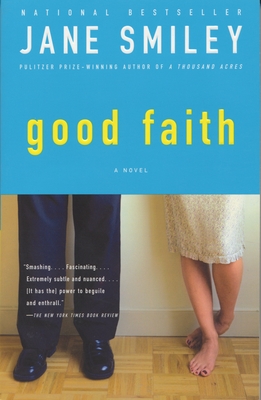 Good Faith
Anchor Books, Paperback, 9780385721059, 432pp.
Publication Date: May 11, 2004
* Individual store prices may vary.
Buy at Local Store
Enter your zip code below to purchase from an indie close to you.
or
Not Currently Available for Direct Purchase
Description
Greed. Envy. Sex. Property. In her subversively funny and genuinely moving new novel, Jane Smiley nails down several American obsessions with the expertise of a master carpenter.

Forthright, likable Joe Stratford is the kind of local businessman everybody trusts, for good reason. But it's 1982, and even in Joe's small town, values are in upheaval: not just property values, either. Enter Marcus Burns, a would-be master of the universe whose years with the IRS have taught him which rules are meant to be broken. Before long he and Joe are new best friends—and partners in an investment venture so complex that no one may ever understand it. Add to this Joe's roller coaster affair with his mentor's married daughter. The result is as suspenseful and entertaining as any of Jane Smiley's fiction.


About the Author
Jane Smiley is the author of nine previous works of fiction, including The Age of Grief, The Greenlanders, Ordinary Love & Good Will, A Thousand Acres (for which she was awarded the Pulitzer Prize), and Moo. She lives in northern California.
Praise For Good Faith…
"Smashing. . . . Fascinating. . . . Extremely subtle and nuanced. . . . [It has the] power to beguile and enthrall." —The New York Times Book Review

"There seems to be nothing Smiley can't write about fabulously well; her insights startle, dazzle." —San Francisco Chronicle

"An irresistible novel of bad manners, a meditation on love and money that Jane Austen might have enjoyed, if she could have handled the sex." —Time

"Everything about Good Faith is in perfect move-in condition. . . . [It] displays all the remarkable attention to detail that's the hallmark of Smiley's work. . . . Smiley has invested her best talent in this work, and you can buy it in good faith." —The Christian Science Monitor

"A vindication of the traditional American novel. . . . It depicts its disquiet by means of rich, seamless prose, scenic immediacy and tight plotting. It's a true winner." —St. Louis Post-Dispatch

"Only a writer of consummate craftsmanship and scope could write a novel about a series of real estate deals in a small town and make it so fully satisfying as to be thrilling. Jane Smiley has done it. . . . [Her] range is broad, her technique masterful. . . . [Good Faith is] a cautionary prequel just right for our times. And great fun, to boot." —Los Angeles Times

"Natural, convincing and moving." —Chicago Tribune

"I admire this novel in so many ways I hardly know where to start. . . . The suspense Smiley generates is about on a par with a hundred Stephen King creatures coming out of the woods. . . . [Smiley] is one of our most Dickensian novelists, her imagination is prodigious, her observations exact, and the wealth of fascinating people inside her head a national treasure." —Donald E. Westlake, The Washington Post Book World

"Striking. . . . Well written, amusing." —The Wall Street Journal

"[A] lusty, testosterone-pumped tale, which both revisits Smiley's obsession with infidelity and underlines her remarkable ability to humanize an industry. . . . You're sucked in [by] this story's power." —Elle

"A literary property that will only appreciate over time." —Daily News (New York)

"Scathing, uproarious. . . . All of Smiley's characters have a sharp vigor that fuels the book's energy. . . . With its surprises and reversals, and its robust realism pushed step-by-step toward comic hyperbole, Good Faith affirms one's faith in the venerable virtues of the satirical novel." —The Seattle Times

"Smiley is never less than brilliant, and this is a clever, classy and utterly enthralling look back in I-told-you-so amusement." —Daily Mail

"Seductive. . . . Frisky. . . . Hilariously deadpan . . . a beguiling cautionary tale. . . . Like a sturdy, well-planned house, it makes room for everybody, and it ought to last a long, long time." —The Miami Herald

"With an arsenal of talents that seem equipped for everything from high drama to uproarious satire, [Smiley's] charm and versatility are outdone only by her narrative confidence." —The Boston Globe

"[Smiley] is so expert in the vernacular of real estate sales you feel like giving her a license by the end of the book. . . . [She] has imagined herself so deeply into [her protagonist] that we can almost feel the way the guy wiggles his toes in his black silk business socks." —Chicago Sun-Times

"Smiley's superb novel does for estate agency what The West Wing does for politics—make it, against the odds, enthralling and sexy. . . . Good Faith has some wonderfully funny characters and is wise and touching." —Mail on Sunday

"Captivating. . . . Tightly focused. . . . A major piece of literary property." —The Christian Science Monitor

"Precise and unshowy, Pulitzer Prize winner Smiley populates her fiction with convincing mothers, lovers, sons and sisters (not to mention houses), and there's real heart in this tale of a material world in the making. A high point in the genre of real-estate realism." —Harpers & Queen, Beach Read of the Month

"A wonderful exposition of a decadent decade." —Good Housekeeping

"Riveting. . . . Smiley has remained faithful to an ideal of sheer readability, to the Jamesian dictum that a novelist's principal task is to be 'interesting.' Her artistry in doing so, in populating her fiction with interesting characters doing equally interesting things, is camouflaged by how easy she makes it all look." —The New York Times Book Review

"Smiley's mastery of language and her talent for plot and character make this story resonate with meaning long after its supremely satisfying final page." —Sainsbury's Magazine, Book of the Month

"Entertaining. . . . Perceptive. . . . Although Smiley could make even Whitewater understandable, it's her characters—flawed, complex, totally convincing—who pull you through the pages. . . . Good Faith is on the money." —The Orlando Sentinel

"Smiley is as restless and uninhibited by her own creative history as a novelist can be. . . . She has set herself a new task with every book. . . . Her technical mastery of fiction—her genius for dialogue and for shades of character, her perfect control of events, and her ability to create suspense out of a snowflake's descent—has meant that all are admirable. . . . Good Faith has a new world to display and a new vocabulary for Smiley, with her usual miraculous powers of mimicry." —Daily Telegraph

"On-the-mark. . . . Superbly written. . . . A broadly funny book by someone with an unerring satirical sense and the ability to create wonderful characters." —Newark Sunday Star-Ledger

"The unassuming conversations, the faultless dialogue, the sheer ease with which the story progresses are of course Jane Smiley's strength, and it is considerable." —Anita Brookner, The Spectator

"[Smiley] is a gifted realist, able to capture the way things actually work and feel, from a high-level real estate transaction to a pool party circa 1983." —The New York Sun

"Smiley's new novel—written with her customary confidence, scale and assurance—may stand as an arresting development in what might one day look like a distinct genre of American turn-of-the-21st-century fiction, searching back to find the most recent wrong turning in the receding past." —Financial Times