The Spiral Staircase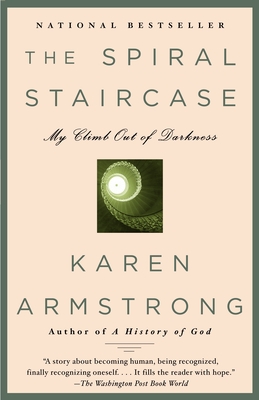 The Spiral Staircase
My Climb Out of Darkness
Anchor Books, Paperback, 9780385721271, 305pp.
Publication Date: February 22, 2005
* Individual store prices may vary.
Buy at Local Store
Enter your zip code below to purchase from an indie close to you.
or
Buy Here
Description
In 1962, at age seventeen, Karen Armstrong entered a convent, eager to meet God. After seven brutally unhappy years as a nun, she left her order to pursue English literature at Oxford. But convent life had profoundly altered her, and coping with the outside world and her expiring faith proved to be excruciating. Her deep solitude and a terrifying illness diagnosed only years later as epilepsy marked her forever as an outsider. In her own mind she was a complete failure: as a nun, as an academic, and as a normal woman capable of intimacy. Her future seemed very much in question until she stumbled into comparative theology. What she found, in learning, thinking, and writing about other religions, was the ecstasy and transcendence she had never felt as a nun. Gripping, revelatory, and inspirational, The Spiral Staircase" "is an extraordinary account of an astonishing spiritual journey.
About the Author
Karen Armstrong is the bestselling author of The Case for God, among other books. A powerful voice for ecumenical understanding, she was instrumental in creating, launching and propagating the Charter for Compassion, a global, multifaith cooperative effort to restore compassionate thinking and action to the center of religious, moral and political life.
Praise For The Spiral Staircase…
"Enjoyable and deeply interesting. . . . Very rewarding." –San Francisco Chronicle

"A story about becoming human, being recognized, finally recognizing oneself. . . . It fills the reader with hope." –The Washington Post Book World

"Riveting. . . . It's a pleasure to read simply because it's honest and hopeful. . . . Armstrong is such an evocative writer." –Newsday

"I loved this powerful and moving account, and read it nonstop." –Elaine Pagels, author of Beyond Belief

"In . . . Armstrong's memoir there lurks wisdom about the making and remaking of a life . . . from which all of us could learn." –The New York Times Book Review

"A powerful memoir. . . . Buoyed by keen intelligence and unflinching self-awareness and honesty. . . . Armstrong is an engaging, energetic writer." –The Christian Science Monitor

"A minor masterpiece." –Elle

"Exceptionally impressive. . . . Karen Armstrong's account of her spiralling journey provokes thought and inspires respect." –Daily Telegraph

"The story of the making of a writer. . . . It manages to dramatize the writer's process of intellectual development and to find in it genuine interest, and, indeed, suspense. . . . As an account of the intellectual journey of an intelligent and unique individual, the book is often gripping." –San Francisco Chronicle

"Candid and compelling, and the sentences are flawless." –The Dallas Morning News

"Unputdownable–absorbing, moving." –Daily Mail

"Remarkable. . . . Unflinching. . . . This candid memoir will clarify thinking about the search for the sacred." –Booklist

"Gripping. . . . Uplifting. . . . Utterly compelling." –The Edmonton Journal

"Armstrong writes with sensitivity and wisdom. . . . She employs a breadth of learning that reflects the scintillating, shifting light and shade of human experience." –The Times (London)

"Absorbing. . . . Profoundly inspiring and engaging." –Tallahassee Democrat

"An honest and affecting book." –The Independent

"The Spiral Staircase . . . is great. Armstrong is a marvelous writer and her subject matter is meaty. Her subject is the meaning of life." –Deseret Morning News

"Open and accessible, Armstrong manages to put into words something that most of us cannot express." –New Statesman

"Moving, insightful. . . . Compulsively readable." –Library Journal

"A subtle and funny memoir." –Sunday Telegraph