Three Junes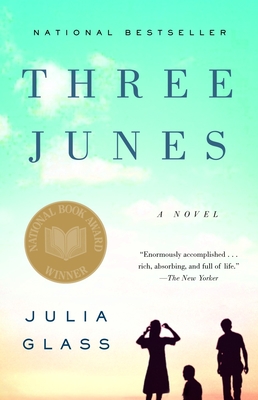 Three Junes
Anchor Books, Paperback, 9780385721424, 368pp.
Publication Date: May 6, 2003
* Individual store prices may vary.
Buy at Local Store
Enter your zip code below to purchase from an indie close to you.
or
Buy Here
Description
An astonishing first novel that traces the lives of a Scottish family over a decade as they confront the joys and longings, fulfillments and betrayals of love in all its guises.
In June of 1989 Paul McLeod, a newspaper publisher and recent widower, travels to Greece, where he falls for a young American artist and reflects on the complicated truth about his marriage. . ..Six years later, again in June, Paul's death draws his three grown sons and their families back to their ancestral home. Fenno, the eldest, a wry, introspective gay man, narrates the events of this unforeseen reunion. Far from his straitlaced expatriate life as a bookseller in Greenwich Village, Fenno is stunned by a series of revelations that threaten his carefully crafted defenses. . .. Four years farther on, in yet another June, a chance meeting on the Long Island shore brings Fenno together with Fern Olitsky, the artist who once captivated his father. Now pregnant, Fern must weigh her guilt about the past against her wishes for the future and decide what family means to her. In prose rich with compassion and wit, " "Three Junes paints a haunting portrait of love's redemptive powers.
About the Author
Julia Glass's first novel, Three Junes, won the 2002 National Book Award for Fiction and was also a selection of ABC/ "Good Morning America"'s READ THIS! Book Club. Her fiction has been honored with a National Endowment for the Arts Literature Fellowship, a New York Foundation for the Arts Fellowship, three Nelson Algren Fiction Awards, the Tobias Wolff Award, and the Pirate's Alley Faulkner Society Medal for Best Novella. She is spending the 2004-2005 academic year as a fellow at the Radcliffe Institute for Advanced Studies, where she is finishing her second novel, A Piece of Cake. Currently, she lives outside Boston with her family.
Praise For Three Junes…
"Enormously accomplished….rich, absorbing, and full of life." -The New Yorker

"A warm, wise debut. . . . Three Junes marks a blessed event for readers of literary fiction everywhere."–San Francisco Chronicle

"Julia Glass's talent sends chills up my spine; Three Junes is a marvel."–Richard Russo, author of Empire Falls

"Three Junes almost threatens to burst with all the life it contains. Glass's ability to illuminate and deepen the mysteries of her characters' lives is extraordinary." – Michael Cunningham, author of The Hours

"'Three Junes' brilliantly rescues, then refurbishes, the traditional plot-driven novel. . . Glass has written a generous book about family expectations–but also about happiness." – The New York Times Book Review

"Gorgeous. . .'Three Junes' goes after the big issues without a trace of fustiness and gives us a memorable hero." – Los Angeles Times Book Review

"'Three Junes' is a novel that bursts with the lives of its characters. They move into our hearts, taking up permanent residence, the newest members of the reader's family of choice."–Times-Picayune

"Fiercely realized. . .luxuriant in its emotional comprehension and the idea, or promise, that anything might happen."–Boston Globe

"Radiant…an intimate literary triptych of lives pulled together and torn apart."–Chicago Tribune

"Sophisticated . . . Engrossing . . . Catches the surprising twists and turns in family relationships, amid love, loss, hope and regret."–Seattle Post-Intelligencer

"The sort of sparkling debut that marks a writer as one to watch." –Daily News

"The fluid, evolving nature of family history is at the heart of this assured first novel."–Time Out New York

"This first novel treats family ties, erotic longing, small children and prolonged deaths from AIDS and cancer with a subtlety that grows from scrupulous unsentimentality."–Newsday

"Formidable. . . The traditional novel of social relations is very much alive in Three Junes. Virginia Woolf and Elizabeth Bowen, among other exemplars, would surely approve."–Kirkus Reviews

"Brimming with a marvelous cast of intricate characters set in an assortment of scintillating backdrops, Glass's philosophically introspective novel is highly intelligent and well-written."–Booklist