The Ordeal of Elizabeth Marsh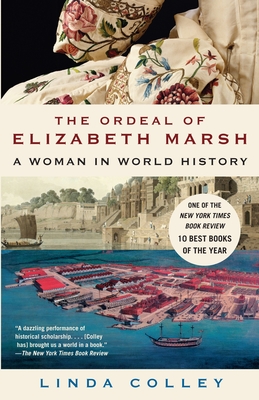 The Ordeal of Elizabeth Marsh
A Woman in World History
Anchor Books, Paperback, 9780385721493, 361pp.
Publication Date: November 11, 2008
* Individual store prices may vary.
Buy at Local Store
Enter your zip code below to purchase from an indie close to you.
or
Buy Here
Description
In this remarkable reconstruction of an eighteenth-century woman's extraordinary and turbulent life, historian Linda Colley not only tells the story of Elizabeth Marsh, one of the most distinctive travelers of her time, but also opens a window onto a radically transforming world.Marsh was conceived in Jamaica, lived in London, Gibraltar, and Menorca, visited the Cape of Africa and Rio de Janeiro, explored eastern and southern India, and was held captive at the court of the sultan of Morocco. She was involved in land speculation in Florida and in international smuggling, and was caught up in three different slave systems. She was also a part of far larger histories. Marsh's lifetime saw new connections being forged across nations, continents, and oceans by war, empire, trade, navies, slavery, and print, and these developments shaped and distorted her own progress and the lives of those close to her. Colley brilliantly weaves together the personal and the epic in this compelling story of a woman in world history.
About the Author
Born in Britain, Linda Colley has taught and written on history and current events on both sides of the Atlantic. Previously at Cambridge, Yale, and the London School of Economics, she is now Shelby M.C. Davis 1958 Professor of History at Princeton University.

Praise For The Ordeal of Elizabeth Marsh…
"A dazzling performance of historical scholarship. . . . [Colley has] brought us a world in a book." —The New York Times Book Review"Vivid. . . . Marsh's extraordinarily peripatetic life illuminates not only the vast global changes of that period . . . but also the almost limitless resources of her own indomitable spirit." —The New Yorker"Colley allows the reader to vault the pioneering life of an obscure woman . . . into a grander tale of physical hardiness and surprising moral choices" —The Economist"This is a remarkable book, both for its contents and because it is a new species of biography… Linda Colley has written a full-blown economic romance with an extraordinary range… bringing all the resources of her skills as a historian and researcher to her story. It is a major achievement and an enthralling narrative."—Claire Tomalin, The Guardian"A work of skewering historical precision and vast imaginative reach… Colley's style of irreproachable clarity makes light work of the global complexities of her story. Her synthesis of the facts is masterly… Her book is both moving and profound."—Hilary Mantel, London Review of Books"Colley has had to piece together fragments of information from all kinds of sources; the result is a minor miracle of biographical reconstruction… Slave revolts in Jamaica, Moroccan politics, cod-fishing in the Shetlands, Manx smuggling, the responsibilities of naval wives, the organization of the salt industry in Bengal: all this, and more, is exposed to view."—Noel Malcolm, The Sunday Telegraph"A refreshing and often startling narrative that opens fresh perspectives on a revolutionary era. The Ordeal of Elizabeth Marsh shifted my understanding of the eighteenth-century world."—Linda K. Kerber, author of No Constitutional Right to Be Ladies: Women and the Obligations of Citizenship