Man Walks Into a Room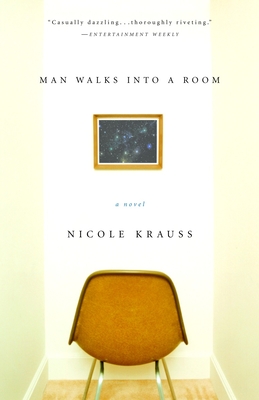 Man Walks Into a Room
Anchor Books, Paperback, 9780385721912, 248pp.
Publication Date: November 11, 2003
* Individual store prices may vary.
Buy Now
or
Shop Local
Enter your zip code below to purchase from an indie close to you.
Description
A luminous and unforgettable first novel by an astonishing new voice in fiction, hailed by Esquire magazine as "one of America's best young writers."

Samson Greene, a young and popular professor at Columbia, is found wandering in the Nevada desert. When his wife, Anna, comes to bring him home, she finds a man who remembers nothing, not even his own name. The removal of a small brain tumor saves his life, but his memories beyond the age of twelve are permanently lost.

Here is the story of a keenly intelligent, sensitive man returned to a life in which everything is strange and new. An emigrant from his own life, set free from all that once defined him, Samson Greene believes he has nothing left to lose. So, when a charismatic scientist asks him to participate in a bold experiment, he agrees. Launched into a turbulent journey that takes him to the furthest extremes of solitude and intimacy, what he gains is nothing short of the revelation of what it means to be human.
About the Author
Nicole Krauss has been hailed by the New York Times as one of America s most important novelists. She is the author of the international bestseller Great House, a finalist for the National Book Award, and Man Walks Into a Room. Her books have been translated into more than thirty-five languages.
Praise For Man Walks Into a Room…
"Casually dazzling . . . thoroughly riveting. (A)" --Entertainment Weekly

"[M]ysterious and compelling. . . . Krauss brings to her work a poet's gift for seizing upon small but potent details. . . . [A] novel that . . . is hard to forget." --Los Angeles Times Book Review

"By turns creepy, witty, austere, and vibey. . . . A major contribution to the art of collective obliviousness, a lonely meditation on the nature of memory and loss." --Esquire

"[G]reat nuance and sophisticated prose that seduces you with its cadences. . . . You'll savor the last page—and be hungry for future work from this talented author." --The Washington Post Book World

"A provocative first novel. . .beautifully written, intellectually engaging. . .Krauss has a remarkable feel for what is ultimately unfathomable."–Chicago Tribune

"[A] deft comedy of unfamiliarity... [A] lucid consideration of the metaphysics of mind-shuffling... Krauss celebrates the anything-but-simple art of human connection." –San Francisco Chronicle

"A meditative debut novel about the pleasures and dangers of forgetting. . .a chilling addition to the annals of amnesia lit." –The Village Voice

"A deeply philosophical novel, one that strikes upon the nagging paradoxes of modern life. . .With the character of Samson Greene, Nicole Krauss puts a human face on these concerns, and–in prose that shimmers with intelligence–tells us his potent and memorable story." –The Sun-Sentinel

"Krauss's work is both dreamy and precise, direct and mysterious, like a more austere Ellen Gilchrist or Ian McEwan." –Bookforum

"Memory and the ramifications of losing it are explored with all the precision of a CAT scan. . . . Charges bravely into a tangle of difficult questions." –San Diego Union-Tribune

"An evocative, finely written first novel that is a true work of fiction." –A.M. Homes

"Unique. . . . Intriguing. . . . It is impossible to read this book without wondering what you would do in the same situation; that reason alone is enough to pick it up." –The Denver Post

"Ambitious, cohesive, intelligent, precise and accomplished. . . . Remarkably fresh. . . . Everything in this novel works." –The Raleigh News & Observer

"An incisive novel of self-invention." –Details

"A sharp, impressive first novel that leaves one looking forward to her next outing." –Santa Fe New Mexican

"Nicole Krauss, with this remarkably felt, sharp-witted debut novel, strides into the forecourt of American letters." –Susan Sontag