Hotel World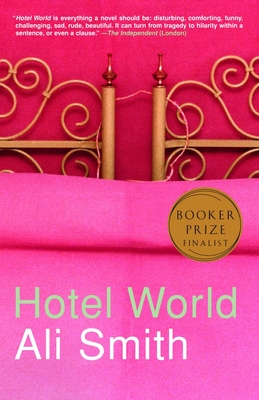 Hotel World
Anchor Books, Paperback, 9780385722100, 256pp.
Publication Date: January 8, 2002
* Individual store prices may vary.
Buy at Local Store
Enter your zip code below to purchase from an indie close to you.
or
Buy Here
Description
Woooooooo-hooooooo.

Five people: four are living; three are strangers; two are sisters; one, a teenage hotel chambermaid, has fallen to her death in a dumbwaiter. But her spirit lingers in the world, straining to recall things she never knew. And one night all five women find themselves in the smooth plush environs of the Global Hotel, where the intersection of their very different fates make for this playful, defiant, and richly inventive novel.

Forget room service: this is a riotous elegy, a deadpan celebration of colliding worlds, and a spirited defense of love. Blending incisive wit with surprising compassion, Hotel World is a wonderfully invigorating, life-affirming book.
About the Author
ALI SMITH has written six works of fiction including "Hotel World", which was shortlisted for both the Man Booker Prize and the Orange Prize and won the Encore Award and the Scottish Arts Council Book of the Year Award. Born in Inverness, Scotland, she now lives in Cambridge, England.
Praise For Hotel World…
"Ali Smith has got style, ideas, and punch. Read her."–Jeanette Winterson

"Hotel World is everything a novel should be: disturbing, comforting, funny, challenging, sad, rude, beautiful.—The Independent (London)

"In this voice from beyond the grave Ali Smith has created the perfect literary ghost…imbued with a powerful sense of wonder at the minutiae of everyday sensuality…and her beautiful, vivid descriptions are reinforced by a sharp, unsentimental tongue."–The Times (London)

"Ali Smith's remarkable novel HOTEL WORLD....is a greatly appealing read. Smith is a gifted and meticulous architect of character and voice."—The Washington Post

"The heart of Scottish writer Ali Smith may belong to good old-fashioned metaphysics -- to truth and beauty and love beyond the grave -- but her stylistic sensibility owes its punch to the Modernists. She's street-savy and poignant at once, with a brutal sense of irony and a wonderful feel for literary economy. There's a kind of stainless-steel clarity at the center of her fiction. . ."—The Boston Globe

"HOTEL WORLD is that rare experiment, a novel with style to spare . . . despite all the tricks, all the tweaks of language and literature, what you remember about HOTEL WORLD is Smith's evocation of the anguish that results when a life ends, her rendering of the sadness at separating from the living world and the loneliness of staying behind. What a death. What a life. What a book."--San Antonio Express-News

". . . in Smith's hands, this slender plot serves as an excuse for a delightfully inventive, exuberant, fierce novel of which the real star is not the dead Sara, or any of the living characters, but the author's vivid, fluent, highly readable prose. HOTEL WORLD was a well-deserved finalist last year for two prestigious British prizes: the Orange Prize and the Booker Prize. . . . I can't begin to paraphrase all that this dazzling book conveys about humanity and mortality . . ."
– Margot Livesey, Newsday

"Ali who? Hotel what? Even for people who follow contemporary British literature, neither the name nor the title meant a lot. They do now. HOTEL WORLD makes a striking impression. It's a challenging, often bleak but affecting journey through the lives of four young women united by the death of another . . . What an introduction to Ali Smith.
– Minneapolis Star Tribune

"HOTEL WORLD is that rare experiment, a novel with style to spare . . . despite all the tricks, all the tweaks of language and literature, what you remember about HOTEL WORLD is Smith's evocation of the anguish that results when a life ends, her rendering of the sadness at separating from the living world and the loneliness of staying behind. What a death. What a life. What a book."
–Milwaukee Journal-Sentinel

"HOTEL WORLD is compelling . . . precisely because it suggests shifting yet coherent perspectives rather than simplifying lives into rigid, inert realities. Most impressively, Smith has mastered sophisticated literary techniques, which never intrude or bog down a delectable narrative of human perception and rumination. Apart from establishing Ali Smith as a novelist with the skills of a Martin Amis and Samuel Beckett combined, HOTEL WORLD is a damn good read." –The San Francisco Chronicle

"Wonderfully inventive and boldly lyrical, HOTEL WORLD is an exhilarating read. A chambermaid careens to her death in a broken dumbwaiter, and her dissipating spirit sings a paean to earthly existence. . . . Newly published in the U.S., Ali Smith's thrilling meditation on life, transience, class, and the material world was an Orange Prize finalist and was shortlisted for the Booker Prize." –INSIDE BORDERS

"Courageous and startling. I doubt that I shall read a tougher or more affecting novel this year." –Jim Crace