The Alchemyst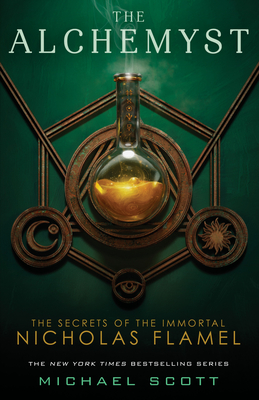 The Alchemyst
Delacorte Press, Paperback, 9780385736008, 375pp.
Publication Date: June 24, 2008
* Individual store prices may vary.
Buy Now
or
Shop Local
Enter your zip code below to purchase from an indie close to you.
Description
Read the first book in the "New York Times" bestselling The Secrets of the Immortal Nicholas Flamel series, perfect for fans of "The Maze Runner" and Percy Jackson and the Olympians.
He holds the secret that can end the world.
The truth: Nicholas Flamel was born in Paris on September 28, 1330. Nearly 700 years later, he is acknowledged as the greatest Alchemyst of his day. It is said that he discovered the secret of eternal life.
The records show that he died in 1418.
But his tomb is empty.
The legend: Nicholas Flamel lives. But only because he has been making the elixir of life for centuries. The secret of eternal life is hidden within the book he protects the Book of Abraham the Mage. It's the most powerful book that has ever existed. In the wrong hands, it will destroy the world. That's exactly what Dr. John Dee plans to do when he steals it. Humankind won't know what's happening until it's too late. And if the prophecy is right, Sophie and Josh Newman are the only ones with the power to save the world as we know it.
Sometimes legends are true.
And Sophie and Josh Newman are about to find themselves in the middle of the greatest legend of all time.
Praise for The Secrets of the Immortal Nicholas Flamel series: "
"
"The Alchemyst"
STAR] A] A riveting fantasy While there is plenty here to send readers rushing to their encyclopedias those who read the book at face value will simply be caught up in the enthralling story. A fabulous read. "School Library Journal," Starred
"The Magician"
STAR] Readers will be swept up by a plot that moves smartly along, leaving a wide trailer of destruction and well-timed revelations. "Kirkus Reveiws," Starred
"The Sorceress"
Master yarnspinner that he is, Scott expertly cranks up the suspense while keeping his now-large cast in quick motion .This page turner promises plenty of action to come. "Kirkus Reviews"
"The Necromancer"
Unrelenting forward momentum .This book will thrill fans. "School Library Journal"
"From the Hardcover edition.
About the Author
Michael Scott began writing over 25 years ago, and is one of Ireland's most successful authors, with over 100 titles to his credit. He writes for both adults and young adults and is published in 37 countries, and in 20 languages. He is considered one of the authorities on the folklore of the Celtic lands and is credited with the resurgence of interest in the subject in the mid-1980's. He is also an accomplished scriptwriter, and has written for the stage and screen, as well as scripted documentaries and drama for television.
Praise For The Alchemyst…
"[A] riveting fantasy. While there is plenty here to send readers rushing to their encyclopedias . . . those who read the book at face value will simply be caught up in the enthralling story. A fabulous read."
—School Library Journal, Starred

"Scott offers a classic fantasy . . . that will put readers on the edge of their seats as they rush to the final page. . . . [An] exhilarating fantasy."—Booklist

"The juxtaposition of our reality with magic and myth is riveting."
—Kirkus Reviews