Hurry and the Monarch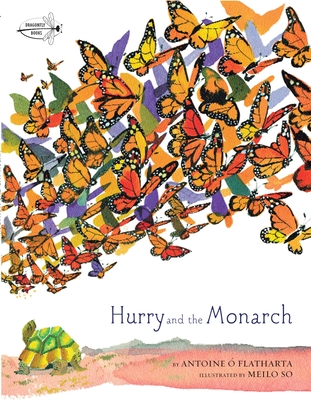 Hurry and the Monarch
Dragonfly Books, Paperback, 9780385737197, 1pp.
Publication Date: February 10, 2009
* Individual store prices may vary.
Buy Now
or
Shop Local
Enter your zip code below to purchase from an indie close to you.
Description
When the beautiful orange Monarch on her fall migration route from Canada to Mexico stops to rest at Wichita Falls, Texas, she makes friends with an old tortoise called Hurry. She tells him, "Maybe one day you'll break out of that shell, grow wings, and fly away," and then she is off again with millions of other Monarchs. In the spring, she stops again at Hurry's garden just long enough to lay her eggs and head north to Canada. Embedded in this lyrical and tender fictional presentation are the fascinating facts about the amazing 2,000-mile migration and the life cycle of butterflies. An afterword provides additional scientific data.
About the Author


MEILO SO is the illustrator of such beautiful, award-winning books such as Moonbeams, Dumplings, and Dragon Boats: A Treasury of Chinese Holiday Tales, Activities, and Recipes and The White Swan Express: A Story about Adoption. She lives in the Shetland Islands, UK.
Praise For Hurry and the Monarch…
"A [Canada-to-Mexico] migrating butterfly provides Hurry, a Texas tortoise, with perspective on the world beyond his garden. 'Maybe one day, you'll break out of that shell, grow wings, and fly away,' the butterfly remarks to Hurry. 'I doubt it,' he replies, then contentedly settles down to hibernate. He wakes in the spring to see the same butterfly alight on a milkweed plant depositing an egg, which hatches, grows, and metamorphoses under Hurry's watchful eye. . . . Together with its informative afterword, this is a particularly attractive, affecting introduction to the wonder of species diversity and the elegant continuum of life."—Booklist, Starred