Wish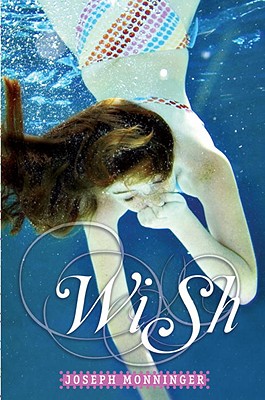 Wish
Delacorte Press Books for Young Readers, Hardcover, 9780385739412, 193pp.
Publication Date: November 9, 2010
* Individual store prices may vary.
Not Currently Available for Direct Purchase
or
Shop Local
Enter your zip code below to purchase from an indie close to you.
Description
Bee's brother, Tommy, knows everything there is to know about sharks. He also knows that his life will be cut short by cystic fibrosis. And so does Bee.
 
That's why she wants to make his wish-foundation-sponsored trip to swim with a great white shark an unforgettable memory.
 
But wishes don't always come true. At least, not as expected. Only when Bee takes Tommy to meet a famous shark attack survivor and hard-core surfer does Tommy have the chance to live one day to the fullest.
 
And in the sun-kissed ocean off a California beach, Bee discovers that she has a few secret wishes of her own. . . .
About the Author
Joseph Monninger has published fourteen novels and three non-fiction books. He has twice received fellowships from the National Endowment for the Arts and has also received a fellowship from the New Hampshire Council for the Arts. His young adult novel, Baby, was chosen as a 2008 top ten book by YALSA.
Praise For Wish…
"A compassionate, wholly absorbing story about 15-year-old Bee, her beloved 11-year-old brother, Tommy, who has cystic fibrosis, and their sometimes-flighty single mother, who travel from small-town New Hampshire to San Francisco via a wish-granting organization for kids with life-threatening medical conditions. Tommy, with a quiet, intelligent intensity, is a shark expert whose dream is to dive with great white sharks "because they are the apex predator fish and they fascinate me." Bee, responsible and high-achieving, is protective of Tommy and hopes that this trip to the Farallones will give him one exciting day "filled all the way up." But it's an unplanned expedition to Half Moon Bay and Maverick's Break, a surfing location known for its 50-foot waves, that affects both of them deeply. Writing from Bee's point of view using clear, distinctive prose that is interspersed with Tommy's intriguing facts about sharks, shark attacks, whales and the ocean, Monninger adroitly creates a moving, suspenseful story of survival that is part surfing adventure, part nature-and-science tale. A winning generosity of spirit infuses the narrative, particularly regarding shark/animal conservation."
-Kirkus Reviews, starred

"Fifteen-year-old Bee's younger brother, Tommy, has cystic fibrosis and is an avid shark buff. After a wishgranting charity fulfills Tommy's dream to see great whites up close, Bee, 11-year-old Tommy, and their mother fly from New Hampshire to San Francisco. But after the outing proves disappointing, and their single mother seems more focused on a new man than on family, Bee and Tommy travel down the coast to
meet Tommy's pen pal and hero, Ty, a surfer and shark-attack survivor. There, Bee finds friendship, including a potential romance with Ty's 16-year-old younger brother, while Tommy gets his longed-for sea adventure, which ends up being difficult and inspiring. Bee's intimate, first-person narrative is wholly compelling and emotionally resonant. Monninger creates diverse, well-drawn characters, and Tommy's
illness is portrayed without sentimentality, in straightforward detail. Interspersed among the breathtaking, vivid descriptions of events and settings are shark facts (further discussed in an author's note) that illuminate nature's brutality and beauty. What shines most, though, are the relationships among characters, particularly between conscientious, school-achiever Bee and courageous, touching Tommy. With mutual admiration, support, and love, they draw strength and perspective from one another and together gain further appreciation for human frailties and resilience. An absorbing, beautifully written novel that will affect readers on many levels." -Booklist, starred