My Name Is Mina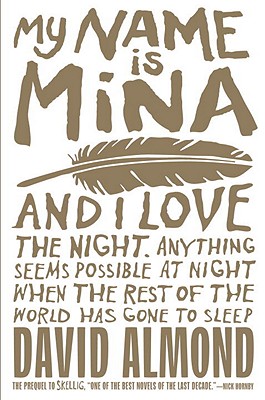 My Name Is Mina
Delacorte Press Books for Young Readers, Hardcover, 9780385740739, 300pp.
Publication Date: October 11, 2011
* Individual store prices may vary.
Buy Now
or
Shop Local
Enter your zip code below to purchase from an indie close to you.
Description
Award-winning author David Almond reintroduces readers to the perceptive, sensitive Mina before the events of "Skellig" in this lyrical and fantastical work. "My Name is Mina" is not only a pleasure to read, it is an intimate and enlightening look at a character whose open mind and heart have much to teach us about life, love, and the mysteries that surround us.
Mina loves the night. While everyone else is in a deep slumber, she gazes out the window, witness to the moon's silvery light. In the stillness, she can even hear her own heart beating. This is when Mina feels that anything is possible and her imagination is set free.
A blank notebook lies on the table. It has been there for what seems like forever. Mina has proclaimed in the past that she will use it as a journal, and one night, at last, she begins to do just that. As she writes, Mina makes discoveries both trivial and profound about herself and her world, her thoughts and her dreams.
About the Author
David Almond has received several major international awards, including a Hans Christian Andersen Award, a Carnegie Medal, two Whitbread Awards, an Eleanor Farjeon Award, and a Michael L. Printz Award. He is the author of The Tightrope Walkers, The True Tale of the Monster Billy Dean, Skellig, Clay, and many other novels, stories, and plays. His many books for younger readers include The Boy Who Swam with Piranhas, illustrated by Oliver Jeffers; The Savage, Slog s Dad, and Mouse Bird Snake Wolf, illustrated by Dave McKean; and My Dad s a Birdman and The Boy Who Climbed Into the Moon, illustrated by Polly Dunbar. David Almond lives in England with his family.
Praise For My Name Is Mina…
Starred Review, Publishers Weekly, August 15, 2011:
"Almond gives readers a vivid picture of the joyfully free-form workings of Mina's mind and her mixed emotions about being an isolated child. Her gradual emergence from the protective shell of home is beautifully portrayed as she gingerly ventures out into the world. Not as dark, but just as passionate as Almond's previous works, this novel will inspire children to let their imaginations soar."

Starred Review, Booklist, September 15, 2011:
Almond is rather brave to have written a prequel to Skellig (1998), a book that was the essence of originality. So many things could have gone wrong. But he is too shrewd—and fine—a writer to let that happen. This is the story of Mina, the girl next door who, in Skellig, helped Michael cope with the man he found in his garage eating dead flies and growing wings. Who was Mina before Michael arrived? Form as well as language bring Mina alive. Her journal introduces us to this authoritative, imaginative, irascible child, and her entries appear in her childlike penmanship; the print is big and bold when she finds a word she loves ("METEMPSYCHOSIS!"), and she uses concrete poetry as she plays with language and thoughts. And what thoughts! Mina is homeschooled, because, well, because she's Mina, and she needs expanses of time to think about myths and mathematics. She dreams of her dead father and wonders, wonders, wonders about birds. It is the birds that will lead readers into Skellig—that, and glimpses of Michael and his family moving next door. This book stands very much alone, but the sense of wonder that pervades the smallest details of everyday life remains familiar.
— Ilene Cooper


The New York Times Book Review, October 16, 2011:
"Mina is a perceptive, fiercely curious, and defiant but sensitive girl who will surely prove a heroine for many."