Firefight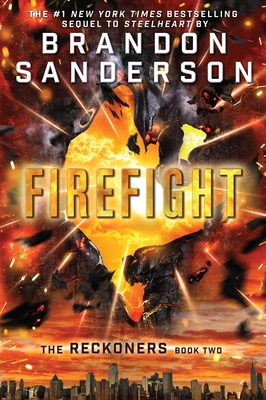 Firefight
Delacorte Press, Hardcover, 9780385743587, 432pp.
Publication Date: January 6, 2015
* Individual store prices may vary.
Buy at Local Store
Enter your zip code below to purchase from an indie close to you.
or
Buy Here
Description
The #1 "New York Times" bestseller and sequel to "Steelheart" a novel that James Dashner called fantastic. Brandon Sanderson, the author of "Words of Radiance," coauthor of Robert Jordan's The Wheel of Time series, and creator of the internationally bestselling Mistborn trilogy, presents the second book in the Reckoners series: "Firefight." And don t miss "Calamity," the exciting conclusion to the Reckoners series available now
Newcago is free.
They told David it was impossible, that even the Reckoners had never killed a High Epic. Yet Steelheart--invincible, immortal, unconquerable--is dead. And he died by David's hand.
Eliminating Steelheart was supposed to make life simpler. Instead, it only made David realize he has questions. Big ones. And no one in Newcago can give him answers.
Babylon Restored, the city formerly known as the borough of Manhattan, has possibilities, though. Ruled by the mysterious High Epic Regalia, Babylon Restored is flooded and miserable, but David is sure it's the path that will lead him to what he needs to find. Entering a city oppressed by a High Epic despot is risky, but David's willing to take the gamble. Because killing Steelheart left a hole in David's heart. A hole where his thirst for vengeance once lived. Somehow, he filled that hole with another Epic--Firefight. And now he will go on a quest darker and even more dangerous than the fight against Steelheart to find her, and to get his answers.
Praise for the Reckoners Series:
#1 "New York Times" Bestselling Series
The suspense is relentless and the climax explosive. James Dashner, #1 "New York Times" bestselling author of the Maze Runner series
Another win for Sanderson . . . he's simply a brilliant writer. Period. Patrick Rothfuss, author of the "New York Times" and "USA Today" bestseller "The Name of the Wind"
Action-packed. EW.com
Compelling. . . . Sanderson uses plot twists that he teases enough for readers to pick up on to distract from the more dramatic reveals he has in store. "The A.V. Club.
About the Author
Brandon Sanderson is the bestselling author of books including "Warbreaker", "Elantris", The Stormlight Archive series, starting with "The Way of Kings", and The Mistborn series-"Mistborn", "The Well of Ascension, The Hero of Ages "and "The Alloy of Law". He has also written "Alcatraz Versus the Evil Librarians", a book for middle-grade readers, and the young adult novel, "The Rithmatist. "He also completed the final books in Robert Jordan's Wheel of Time(r) series-"The Gathering Storm", "Towers of Midnight" and "A Memory of Light"-based on Jordan's notes and material. Sanderson teaches writing at Brigham Young University. He lives in Utah.