The Annotated Huckleberry Finn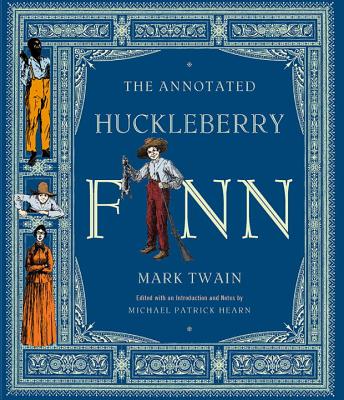 The Annotated Huckleberry Finn
W. W. Norton & Company, Hardcover, 9780393020397, 480pp.
Publication Date: October 17, 2001
* Individual store prices may vary.
Buy at Local Store
Enter your zip code below to purchase from an indie close to you.
or
Buy Here
Description
"All modern American literature comes from one book by Mark Twain called Huckleberry Finn," Ernest Hemingway once declared. First published in 1885, the book has delighted millions of readers, while simultaneously riling contemporary sensibilities, and is still banned in many schools and libraries. Now, Michael Patrick Hearn, author of the best-selling The Annotated Wizard of Oz, thoroughly reexamines the 116-year heritage of that archetypal American boy, Huck Finn, and follows his adventures along every bend of the mighty Mississippi River. Hearn's copious annotations draw on primary sources including the original manuscript, Twain's revisions and letters, and period accounts. Reproducing the original E. W. Kemble illustrations from the first edition, as well as countless archival photographs and drawings, some of them previously unpublished, The Annotated Huckleberry Finn is a book no family's library can do without; it may well prove to be the classic edition of the great American novel.
About the Author
Mark Twain, born Samuel Langhorne Clemens, was an American humorist and writer, who is best known for his enduring novels The Adventures of Tom Sawyer and Adventures of Huckleberry Finn, which has been called the Great American Novel. Raised in Hannibal, Missouri, Twain held a variety of jobs including typesetter, riverboat pilot, and miner before achieving nationwide attention for his work as a journalist with The Celebrated Jumping Frog of Calaveras County. He earned critical and popular praise for his wit and enjoyed a successful career as a public speaker in addition to his writing. Twain s works were remarkable for his ability to capture colloquial speech, although his adherence to the vernacular of the time has resulted in the suppression of his works by schools in modern times. Twain s birth in 1835 coincided with a visit by Halley s Comet, and Twain predicted, accurately, that he would go out with it as well, dying the day following the comet s return in 1910.

Michael Patrick Hearn has written for the New York Times, The Nation, and many other publications. His books include From the Silver Age to Stalin: Russian Children's Book Illustration and The Porcelain Cat; he has edited The Victorian Fairy Tale Book, The Annotated Wizard of Oz, The Annotated Christmas Carol, and The Annotated Huckleberry Finn. Hearn lives in New York City.

Samuel Langhorne Clemens (November 30, 1835 - April 21, 1910), better known by his pen name Mark Twain, was an American author and humorist. He is noted for his novels Adventures of Huckleberry Finn (1885), called "the Great American Novel," and The Adventures of Tom Sawyer (1876). Twain grew up in Hannibal, Missouri, which would later provide the setting for Huckleberry Finn and Tom Sawyer. He apprenticed with a printer. He also worked as a typesetter and contributed articles to his older brother Orion's newspaper. After toiling as a printer in various cities, he became a master riverboat pilot on the Mississippi River, before heading west to join Orion. He was a failure at gold mining, so he next turned to journalism. While a reporter, he wrote a humorous story, The Celebrated Jumping Frog of Calaveras County, which proved to be very popular and brought him nationwide attention. His travelogues were also well-received. Twain had found his calling. He achieved great success as a writer and public speaker. His wit and satire earned praise from critics and peers, and he was a friend to presidents, artists, industrialists, and European royalty. However, he lacked financial acumen. Though he made a great deal of money from his writings and lectures, he squandered it on various ventures, in particular the Paige Compositor, and was forced to declare bankruptcy. With the help of Henry Huttleston Rogers, however, he eventually overcame his financial troubles. Twain worked hard to ensure that all of his creditors were paid in full, even though his bankruptcy had relieved him of the legal responsibility. Born during a visit by Halley's Comet, he died on its return. He was lauded as the "greatest American humorist of his age," and William Faulkner called Twain "the father of American literature."