Khrushchev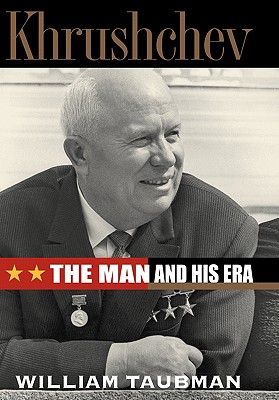 Khrushchev
The Man and His Era
W. W. Norton & Company, Hardcover, 9780393051445, 908pp.
Publication Date: March 1, 2003
* Individual store prices may vary.
Buy at Local Store
Enter your zip code below to purchase from an indie close to you.
or
Buy Here
Description
"A brilliant, stunning, magnificent book. One of the most important figures of the twentieth century, who had a lot to do with setting the stage for the twenty-first, Khrushchev finally has the biography he deserves deep and detailed yet fast-paced, scholarly yet not stuffy, historical yet intensely human. Taubman brings Khrushchev alive in all his complexity, capturing both the humanity that somehow survived in him and became the bedrock for his political decency, and the cynicism that made him part of the brutality of the Soviet system. The book has the sweep of a Big Book about a Big Figure, yet its style is no-frills, no-nonsense, straight-from-the-shoulder, with judgments proferred judiciously. Taubman does a superb job of portraying the rogue's gallery of Soviet leaders while providing a colorful canvas of the country and its history. Having spent several years of my own life in Khrushchev's shadow, I couldn't be more admiring of what Taubman has accomplished." Strobe Talbott, former U.S. deputy secretary of state, editor and translator of Khrushchev's memoirs "Monumental, definitive, rich in detail. Taubman pulls aside the curtain and shows us both a fascinating man and new facts about Soviet decision making during the most dangerous days of the Cold War. A highly readable, compelling story." Anthony Lake, former U.S. national security adviser "The definitive account of Khrushchev's career and personality, this is also a wonderful page-turner about the deadly duel for power in the Kremlin. Altogether it is one of the best books ever written about the Soviet Union." Constantine Pleshakov, co-author, Inside the Kremlin's Cold War "Few books in the field of Cold War history have been as eagerly awaited as William Taubman's biography of Nikita Khrushchev. Reflecting years of research as well as a keen sensitivity to culture, context, and personality, this extraordinary book more than matches the extraordinary character of its subject. It is a superb portrayal of one of the most attractive but also dangerous leaders of the twentieth century." John Lewis Gaddis, professor of history, Yale University "A portrait unlikely to be surpassed any time soon in either richness or complexity. This volume, with its brisk, enjoyable narrative, succeeds in every sense: sweep, depth, liveliness, color, tempo. Each chapter shines with mastery and authority." Leon Aron, The New York Times Book Review "Masterful and monumental...one should salute its author for a wonderful achievement....Starting with a juicy subject...Taubman has drawn on a huge body of material, much of it from newly available Soviet sources....He spent nearly twenty years on the book. The result is fun to read, full of insight and more than a little terrifying." Robert G. Kaiser, Washington Post "Thanks to Taubman, one of the most important figures of the 20th century finally has the biography he deserves....In reconstructing a single paradoxical life, he helps us understand better the complexity of the human condition." Strobe Talbott, Los Angeles Times Book Review
About the Author
William Taubman is professor of political science at Amherst College and the author of Stalin's American Policy, Moscow Spring, and other books on the Soviet Union.