The Fourth Dimension of a Poem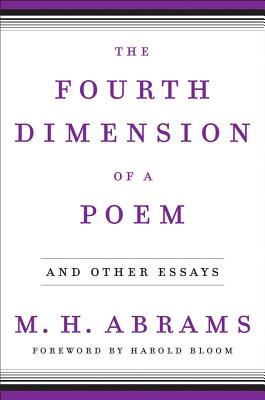 The Fourth Dimension of a Poem
And Other Essays
W. W. Norton & Company, Hardcover, 9780393058307, 240pp.
Publication Date: September 3, 2012
* Individual store prices may vary.
Buy at Local Store
Enter your zip code below to purchase from an indie close to you.
or
Buy Here
Description
In the year of his one-hundredth birthday, preeminent literary critic, scholar, and teacher M. H. Abrams brings us a collection of nine new and recent essays that challenge the reader to think about poetry in new ways. In these essays, three of them never before published, Abrams engages afresh with pivotal figures in intellectual and literary history, among them Kant, Keats, and Hazlitt. The centerpiece of the volume is Abrams's eloquent and incisive essay The Fourth Dimension of a Poem on the pleasure of reading poems aloud, accompanied by online recordings of Abrams's revelatory readings of poems such as William Wordsworth's Surprised by Joy, Alfred Tennyson's Here Sleeps the Crimson Petal, and Ernest Dowson's Cynara. The collection begins with a foreword by Abrams's former student Harold Bloom.
About the Author
Jack Stillinger (Ph.D. Harvard) is Center for Advanced StudyM. H. Abrams (1912 2015) was Class of 1916 Professor of Engl Professor of English Emeritus at the University of Illinoisish, Emeritus at Cornell University. He received the Phi Bet. He is the author of The Hoodwinking of Madeline and Other a Kappa Christian Gauss Prize for The Mirror and the Lamp anEssays on Keats s Poems, The Texts of Keats s Poems, the stad the MLA's James Russell Lowell Prize for Natural Supernatundard edition of The Poems of John Keats; Multiple Authorshiralism. He is also the author of The Milk of Paradise, A Glop and the Myth of Solitary Genius; Coleridge and Textual Insssary of Literary Terms, The Correspondent Breeze, and Doingtability; and Reading "The Eve of St. Agnes." He is the reci Things with Texts. He is the recipient of Guggenheim, Ford pient of Guggenheim and Woodrow Wilson fellowships and is a Foundation, and Rockefeller Postwar fellowships, the Award ifellow of the American Academy of Arts and Sciences. n Humanistic Studies from the Academy of Arts and Sciences (1984), the Distinguished Scholar Award by the Keats-Shelley Society (1987), and the Award for Literature by the American Academy of Arts and Letters (1990). In 1999 The Mirror and the Lamp was ranked twenty-fifth among the Modern Library's "100 best nonfiction books written in English during the twentieth century."

Harold Bloom is a Sterling Professor of the Humanities at Yale University and a former Charles Eliot Norton Professor at Harvard. His more than thirty books include The Best Poems of the English Language, The Art of Reading Poetry, and The Book of J. He is a MacArthur Prize Fellow, a member of the American Academy of Arts and Letters, and the recipient of many awards and honorary degrees, including the Academy s Gold Medal for Belles Lettres and Criticism, the International Prize of Catalonia, and the Alfonso Reyes Prize of Mexico.