The Golden Spruce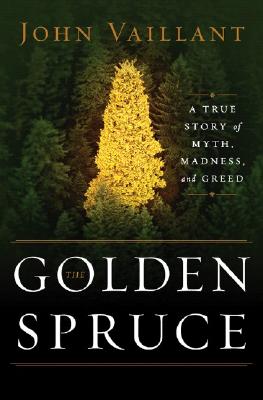 The Golden Spruce
A True Story of Myth, Madness, and Greed
W. W. Norton & Company, Hardcover, 9780393058871, 272pp.
Publication Date: May 17, 2005
* Individual store prices may vary.
Buy Now
or
Shop Local
Enter your zip code below to purchase from an indie close to you.
Description
When a shattered kayak and camping gear are found on an uninhabited island, they reignite a mystery surrounding a shocking act of protest. Five months earlier, logger-turned-activist Grant Hadwin had plunged naked into a river in British Columbia's Queen Charlotte Islands, towing a chainsaw. When his night's work was done, a unique Sitka spruce, 165 feet tall and covered with luminous golden needles, teetered on its stump. Two days later it fell The tree, a fascinating puzzle to scientists, was sacred to the Haida, a fierce seafaring tribe based in the Queen Charlottes. Vaillant recounts the bloody history of the Haida and the early fur trade, and provides harrowing details of the logging industry, whose omnivorous violence would claim both Hadwin and the golden spruce.
About the Author
JOHN VAILLANT's work has appeared in The New Yorker, the Atlantic, National Geographic, and Outside, among other magazines. His two previous, award-winningbooks, TheTiger and The Golden Spruce, were international bestsellers.