The Greek Poets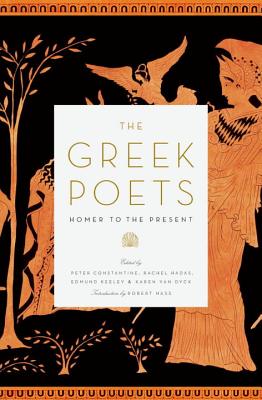 The Greek Poets
Homer to the Present
W. W. Norton & Company, Hardcover, 9780393060836, 692pp.
Publication Date: December 1, 2009
* Individual store prices may vary.
Buy Now
or
Shop Local
Enter your zip code below to purchase from an indie close to you.
Description
This landmark volume captures three millennia of Greek poetry more than 1,000 poems and 200 poets. From the epics of Homeric Greece to the historical and erotic ironies of Cavafy, from the romances, hymns, and bawdy rhymes of Byzantium to the innovative voices of a resurgent twentieth century, this anthology brings together the diverse strands of the Greek poetic tradition. The favorites are all here raging Achilles, restless Odysseus, strong-hearted Penelope but The Greek Poets also presents neglected eras, from the rise of Constantinople to the end of the Ottoman occupation. In offering canonical poets such as Sappho and Pindar, and the modern Nobel laureates Seferis and Elytis, the renowned editors give us their new translations and bring together other masterful translators, including Robert Fagles, James Merrill, and W. S. Merwin, along with a younger generation that includes Anne Carson, Paul Muldoon, and Alicia Stallings. This is an essential companion to the Western literary tradition.
About the Author
Peter Constantine's most recent translations are Sophocles Theban Trilogy, The Essential Writings of Machiavelli, and The Bird is a Raven by Benjamin Lebert, which was awarded the Helen und Kurt Wolff Translation Prize. He was awarded the PEN Translation Prize for Six Early Stories by Thomas Mann, and the National Translation Award for The Undiscovered Chekhov: Thirty-Eight New Stories. His translation of the complete works of Isaac Babel received the Koret Jewish Literature Award and a National Jewish Book Award citation. He has recently translated Gogol s Taras Bulba, Tolstoy s The Cossacks, and Voltaire s Candide for Modern Library. He was one of the editors for A Century of Greek Poetry: 1900-2000, and is a senior editor at Conjunctions.

Rachel Hadas's numerous books include a memoir, Strange Relation, (2011) and eleven books of poetry, most recently The Golden Road (2012). A new book of poems, Questions in the Vestibule, is forthcoming in 2016. She has also translated tragedies by Euripides and Seneca, coedited an anthology of Greek poetry in translation from Homer to the present, and edited an anthology of work by poets in a workshop she initiated at Gay Men's Health Crisis. A frequent reviewer and columnist for the Times Literary Supplement, Hadas lives in New York City with her husband and collaborator, artist Shalom Gorewitz. She is Board of Governors Professor of English at Rutgers University-Newark.

Edmund Keeley is the Charles Barnwell Straut Professor of English Emeritus and the Director Emeritus of the Creative Writing and Hellenic Studies programs at Princeton University, where he taught for forty years. His novels, literary and historical studies, and translations have earned him the Rome Prize and the Academy Award in Literature from the American Academy of Arts and Letters, the PEN/Ralph Manheim Medal and the 2014 PEN Award for Poetry in Translation, and the Harold Morton Landon Translation Award of the Academy of American Poets. He is the author of several books published by White Pine Press: AN ALBANIAN JOURNAL (1997), SOME WINE FOR REMEMBRANCE (2002), and BORDERLINES: A MEMOIR (2005). His latest publications are his eighth novel, The Megabuilders of Queenston Park, and the poetry collection REQUIEM FOR MARY (Greenhouse Review Press, 2015).