See What I'm Saying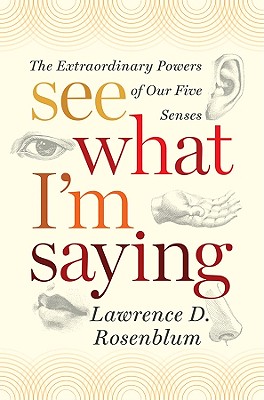 See What I'm Saying
The Extraordinary Powers of Our Five Senses
W. W. Norton & Company, Hardcover, 9780393067606, 350pp.
Publication Date: March 2010
* Individual store prices may vary.
Buy Now
or
Shop Local
Enter your zip code below to purchase from an indie close to you.
Description
To illustrate these implicit perceptual skills, Rosenblum takes us from the beep baseball fields where blind players swing at beeping balls, to a pitch-black restaurant where diners experience taste without the aid of sight. We accompany him on a visit to an Oscar-winning animator who explains how the public's expertise in perceiving faces has made his job so difficult; and a visit with a supermodel to discuss why beautiful faces are irresistible New studies have shed light on the surprising power and reach of our senses. It turns out that our brains use entire forms of perceptual information of which we are largely unaware. We can hear things that don t make sounds, feel things without touching them, see things with no form, and smell things that have no discernible odor. Throughout the book, Rosenblum not only illuminates the fascinating science behind our hidden perceptual powers, but demonstrates how increased awareness of these abilities can actually lead us to enhance how we use them.
About the Author
Lawrence D. Rosenblum, an award-winning Professor of Psychology at the University of California, Riverside, is the recipient of multiple National Science Foundation and National Institute of Health grants for his research on lipreading and multimodal integration and a grant from the National Federation of the Blind for his research on the audibility of hybrid cars. Rosenblum's work has been featured in The Economist, the New York Times, the Los Angeles Times and on National Public Radio. He lives in Los Angeles with his wife and two children.