Salumi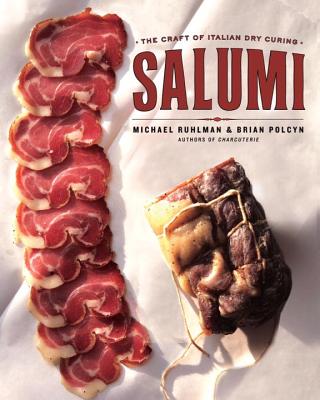 Salumi
The Craft of Italian Dry Curing
W. W. Norton & Company, Hardcover, 9780393068597, 285pp.
Publication Date: August 2012
* Individual store prices may vary.
Buy Now
or
Shop Local
Enter your zip code below to purchase from an indie close to you.
Description
Michael Ruhlman and Brian Polcyn inspired a revival of artisanal sausage making and bacon curing with their surprise hit, Charcuterie. Now they delve deep into the Italian side of the craft with Salumi, a book that explores and simplifies the recipes and techniques of dry curing meats. As the sources and methods of making our food have become a national discussion, an increasing number of cooks and professional chefs long to learn fundamental methods of preparing meats in the traditional way. Ruhlman and Polcyn give recipes for the eight basic products in Italy's pork salumi repertoire: guanciale, coppa, spalla, lardo, lonza, pancetta, prosciutto, and salami, and they even show us how to butcher a hog in the Italian and American ways. This book provides a thorough understanding of salumi, with 100 recipes and illustrations of the art of ancient methods made modern and new.
About the Author
Michael Ruhlman is the author of more than a dozen books, including "The Making of a Chef", "The Elements of Cooking" and "The French Laundry Cookbook". He lives in Cleveland with his wife, daughter, and son and is a frequent contributor to "The New York Times" and "Gourmet".

Brian Polcyn is the chef/owner of Forest Grill in Birmingham, Michigan, and a professor of charcuterie at SchoolCraft College in Livonia, Michigan.

Rose Levy Beranbaum's The Cake Bible earned the International Association of Culinary Professionals/Seagram Book of the Year Award and is currently in its twenty-ninth printing.