Swimming with Piranhas at Feeding Time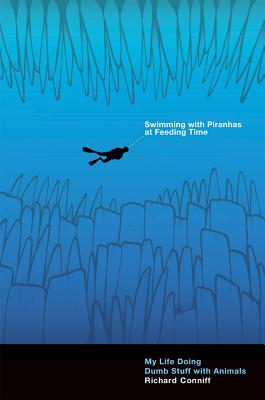 Swimming with Piranhas at Feeding Time
My Life Doing Dumb Stuff with Animals
W. W. Norton & Company, Hardcover, 9780393068931, 299pp.
Publication Date: May 1, 2009
* Individual store prices may vary.
Not Currently Available for Direct Purchase
or
Shop Local
Enter your zip code below to purchase from an indie close to you.
Description
Field journalist Richard Conniff examines the lives of two-, four-, six-, and eight-legged creatures from around the globe, providing adventure-packed accounts of his many ill advised forays into the animal kingdom. He pulls a 90-pound snapping turtle out of a Louisiana bayou, tracks leopards with Kung San hunters in the Namibian desert, and travels through the Himalayas in pursuit of tigers and the mythical migur. All in a day's work, he flings chicken carcasses into piranha-infested waters to clock how quickly they disappear before diving in himself, and then encounters a man stung by 120 different species of insects, ranking their pain the way Robert Parker ranks wine. Again and again, Conniff courts the most dangerous animals and lives to tell the tale. This collection offers a rare chance to accompany him on death defying treks and see life through the lens of a bona-fide field naturalist.
About the Author
Richard Coniff, a Guggenheim Fellow and winner of the National Magazine Award, writes for Smithsonian and National Geographic and is a frequent commentator on NPR's All Things Considered and a guest columnist for the New York Times. His books include The Natural History of the Rich, Swimming with Piranhas at Feeding Time, and The Species Seekers. He lives in Old Lyme, Connecticut.