Sauces & Shapes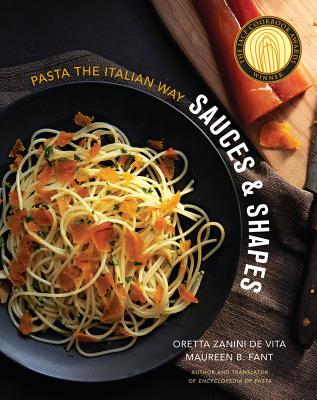 Sauces & Shapes
Pasta the Italian Way
W. W. Norton & Company, Hardcover, 9780393082432, 400pp.
Publication Date: October 2013
* Individual store prices may vary.
Buy Now
or
Shop Local
Enter your zip code below to purchase from an indie close to you.
Description
Pasta is so universally popular in the United States that it can justifiably be called an American food. This book makes the case for keeping it Italian with recipes for sauces and soups as cooked in Italian homes today. There are authentic versions of such favorites as carbonara, bolognese, marinara, and Alfredo, as well as plenty of unusual but no less traditional sauces, based on roasts, ribs, rabbit, clams, eggplant, arugula, and mushrooms, to name but a few.
Anyone who cooks or eats pasta needs this book. The straightforward recipes are easy enough for the inexperienced, but even professional chefs will grasp the elegance of their simplicity.
Cooking pasta the Italian way means: Keep your eye on the pot, not the clock.Respect tradition, but don t be a slave to it.Choose a compatible pasta shape for your sauce or soup, but remember they aren t matched by computer. (And that angel hair goes with broth, not sauce.)Use the best ingredients you can find and you can find plenty on the Internet.Resist the urge to embellish, add, or substitute. But minor variations usually enhance a dish.How much salt? Don t ask, taste
Serving and eating pasta the Italian way means: Use a spoon for soup, not for twirling spaghetti.Learn to twirl; never cut.Never add too much cheese, and often add none at all.Toss the cheese and pasta before adding the sauce.Warm the dishes.Serve pasta alone. The salad comes after.To be perfectly proper, use a plate, not a bowl.
The authors are reluctant to compromise because they know how good well-made pasta can be. But they keep their sense of humor and are sympathetic to all well-intentioned readers.
About the Author
Oretta Zanini De Vita is a leading Italian food critic and author of several books on Italian cuisine including "The Food of Rome and Lazio: History, Folklore, and Recipes" and "Il cibo e il suo mondo nella campagna romana." Maureen B. Fant is a writer and translator and is the coauthor of "The Dictionary of Italian Cuisine."

Oretta Zanini de Vita was born in Bologna, where she learned the art of pasta making as a child in a local convent school. A respected Italian culinary historian, she has written more than forty books on Italian food and its traditions, including the James Beard Award-winning Encyclopedia of Pasta (2010) and Popes, Peasants, and Shepherds: Recipes and Lore from Rome and Lazio (2013), both translated by Maureen B. Fant. She lives in Rome.