The Price of Inequality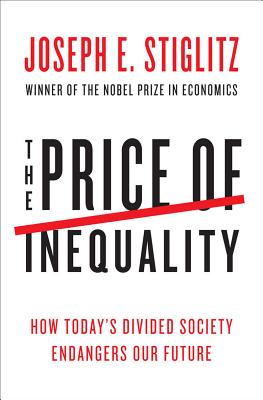 The Price of Inequality
How Today's Divided Society Endangers Our Future
W. W. Norton & Company, Hardcover, 9780393088694, 448pp.
Publication Date: June 2012
* Individual store prices may vary.
Buy Now
or
Shop Local
Enter your zip code below to purchase from an indie close to you.
Description
Stiglitz draws on his deep understanding of economics to show that growing inequality is not inevitable: moneyed interests compound their wealth by stifling true, dynamic capitalism. They have made America the most unequal advanced industrial country while crippling growth, trampling on the rule of law, and undermining democracy. The result: a divided society that cannot tackle its most pressing problems. With characteristic insight, Stiglitz examines our current state, then teases out its implications for democracy, for monetary and budgetary policy, and for globalization. He closes with a plan for a more just and prosperous future.
About the Author
Joseph E. Stiglitz was awarded the Nobel Prize in Economics in 2001 and is a University Professor at Columbia University. He was Chief Economist and Senior Vice-President of the World Bank from 1997-2000 and Chair of President Bill Clinton s Council of Economic Advisors from 1995-97.
Tuesday, Jun 5, 2012
In The Price of Inequality, Nobel Prize-winning economist Joseph Stiglitz argues that widely unequal societies don't function effectively or have stable economies. Even the rich will pay a steep price if economic inequalities continue to worsen, he says. More at NPR.org