The Marx-Engels Reader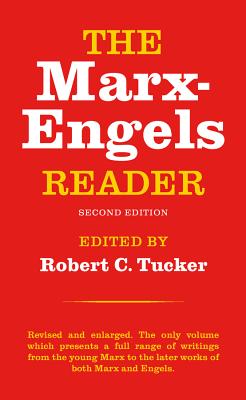 The Marx-Engels Reader
W. W. Norton & Company, Paperback, 9780393090406, 832pp.
Publication Date: March 1978
* Individual store prices may vary.
Buy Now
or
Shop Local
Enter your zip code below to purchase from an indie close to you.
Description
This revised and enlarged edition of the leading anthology provides the essential writings of Marx and Engels--those works necessary for an introduction to Marxist thought and ideology.
About the Author
Friedrich Engels was born in 1820, in the German city of Barmen. He died in London in 1895 while editing the fourth volume of Capital.

Described as one of the most influential figures in human history, Karl Marx was a German philosopher and economist who wrote extensively on the benefits of socialism and the flaws of free-market capitalism. His most notable works, Das Kapital and The Communist Manifesto (the latter of which was co-authored by his collaborator Friedrich Engels), have since become two of history s most important political and economic works. Marxismthe term that has come to define the philosophical school of thought encompassing Marx s ideas about society, politics and economicswas the foundation for the socialist movements of the twentieth century, including Leninism, Stalinism, Trotskyism, and Maoism. Despite the negative reputation associated with some of these movements and with Communism in general, Marx s view of a classless socialist society was a utopian one which did not include the possibility of dictatorship. Greatly influenced by the philosopher G. W. F. Hegel, Marx wrote in radical newspapers from his young adulthood, and can also be credited with founding the philosophy of dialectical materialism. Marx died in London in 1883 at the age of 64.

Robert C. Tucker is professor emeritus of politics at Princeton University. Among his publications are Stalinism: Essays in Historical Interpretation; The Soviet Political Mind, rev. ed.; The Marxian Revolutionary Idea; Stalin as Revolutionary: A Study in History and Personality, 1879-1929; and Stalin in Power: The Revolution from Above 1928-1941.