The Story of American Freedom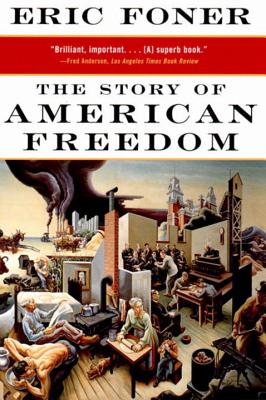 The Story of American Freedom
W. W. Norton & Company, Paperback, 9780393319620, 448pp.
Publication Date: September 1999
* Individual store prices may vary.
Shop Local
Enter your zip code below to find indies closest to you.
Description
From the Revolution to our own time, freedom has been America's strongest cultural bond and its most perilous fault line, a birthright for some Americans and a cruel mockery for others. Eric Foner takes freedom not as a timeless truth but as a value whose meaning and scope have been contested throughout American history. His sweeping narrative shows freedom to have been shaped not only in congressional debates and political treatises but also on plantations and picket lines, in parlors and bedrooms, by our acknowledged leaders and by former slaves, union organizers, freedom riders, and women's rights activists.
About the Author
Eric Foner is the preeminent historian of his generation, highly respected by historians of every stripe whether they specialize in political history or social history. His books have won the top awards in the profession, and he has been president of both major history organizations: the American Historical Association and the Organization of American Historians. He has worked on every detail of Give Me Liberty!, which displays all of his trademark strengths as a scholar, teacher, and writer. A specialist on the Civil War/Reconstruction period, he regularly teaches the nineteenth-century survey at Columbia University, where he is DeWitt Clinton Professor of History. In 2011, Foner's The Fiery Trial: Abraham Lincoln and American Slavery won the Pulitzer Prize in History, the Bancroft Prize, and the Lincoln Prize.