The Code of the Woosters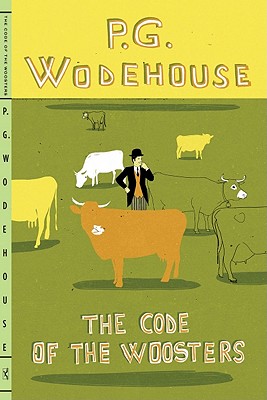 The Code of the Woosters
W. W. Norton & Company, Paperback, 9780393339819, 254pp.
Publication Date: July 5, 2011
* Individual store prices may vary.
Buy at Local Store
Enter your zip code below to purchase from an indie close to you.
or
Buy Here
Description
Follow the adventures of Bertie Wooster and his gentleman's gentleman, Jeeves, in this stunning new edition of one of the greatest comic novels in the English language. When Aunt Dahlia demands that Bertie Wooster help her dupe an antique dealer into selling her an 18th-century cow-creamer. Dahlia trumps Bertie's objections by threatening to sever his standing invitation to her house for lunch, an unthinkable prospect given Bertie's devotion to the cooking of her chef, Anatole. A web of complications grows as Bertie's pal Gussie Fink-Nottle asks for counseling in the matter of his impending marriage to Madeline Bassett. It seems Madeline isn't his only interest; Gussie also wants to study the effects of a full moon on the love life of newts. Added to the cast of eccentrics are Roderick Spode, leader of a fascist organization called the Saviors of Britain, who also wants that cow-creamer, and an unusual man of the cloth known as Rev. H. P. "Stinker" Pinker. As usual, butler Jeeves becomes a focal point for all the plots and ploys of these characters, and in the end only his cleverness can rescue Bertie from being arrested, lynched, and engaged by mistake
About the Author
Sir Pelham Grenville Wodehouse (P. G. Wodehouse) was an English humorist and writer best known for his Jeeves and Blandings Castle novels. Educated at boarding schools, Wodehouse turned to writing at a young age, demonstrating great skill at humorous sketches and musical lyrics. He continued to write part-time while pursuing, at the behest of his father, a career in banking, and successfully contributed numerous pieces to Punch, Vanity Fair, and The Daily Express, among other publications. In addition to his literary work, Wodehouse was incorporated into the Songwriters Hall of Fame in recognition of his collaboration with Cole Porter on Anything Goes, his lyrics to the song Bill from Show Boat, and his work on the musicals Rosalie and The Three Musketeers.
While interned along with other British citizens in Germany during the Second World War, Wodehouse made a series of radio broadcasts for which he was accused of being a collaborator; and, although later cleared of the charges, he never returned to England. His work has influenced many other writers including Evelyn Waugh, Rudyard Kipling, J. K. Rowling, and John Le Carr?. P. G. Wodehouse died in 1975 at the age of 93.