The Post-American World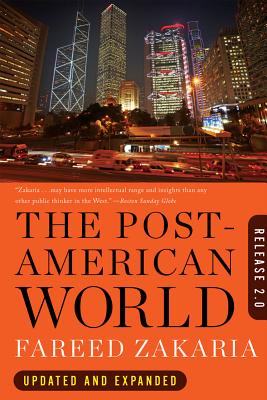 The Post-American World
Release 2.0
W. W. Norton & Company, Paperback, 9780393340389, 314pp.
Publication Date: May 2012
* Individual store prices may vary.
Shop Local
Enter your zip code below to find indies closest to you.
Description
This is not a book about the decline of America, but rather about the rise of everyone else. So begins Fareed Zakaria's blockbuster on the United States in the twenty-first century, and the trends he identifies have proceeded faster than anyone anticipated. How might the nation continue to thrive in a truly global era? In this fully updated 2.0 edition, Zakaria answers these questions with his customary lucidity, insight, and imagination.
About the Author
Fareed Zakaria has been called "the most influential foreign policy adviser of his generation" (Esquire). He is the Emmy-nominated host of CNN's Fareed Zakaria GPS, editor-at-large for Time magazine, a columnist for the Washington Post, and the best-selling author of The Post-American World and The Future of Freedom. He lives in New York City.