The Swerve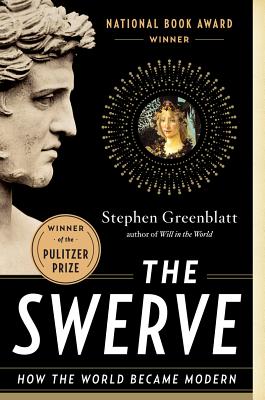 The Swerve
How the World Became Modern
W. W. Norton & Company, Paperback, 9780393343403, 368pp.
Publication Date: September 4, 2012
* Individual store prices may vary.
Buy at Local Store
Enter your zip code below to purchase from an indie close to you.
or
Buy Here
Description
Nearly six hundred years ago, a short, genial, cannily alert man in his late thirties took a very old manuscript off a library shelf, saw with excitement what he had discovered, and ordered that it be copied. That book was the last surviving manuscript of an ancient Roman philosophical epic, On the Nature of Things, by Lucretius a beautiful poem of the most dangerous ideas: that the universe functioned without the aid of gods, that religious fear was damaging to human life, and that matter was made up of very small particles in eternal motion, colliding and swerving in new directions. The copying and translation of this ancient book-the greatest discovery of the greatest book-hunter of his age-fueled the Renaissance, inspiring artists such as Botticelli and thinkers such as Giordano Bruno; shaped the thought of Galileo and Freud, Darwin and Einstein; and had a revolutionary influence on writers such as Montaigne and Shakespeare and even Thomas Jefferson.
About the Author
Stephen Greenblatt (Ph.D. Yale) is Cogan University Professor of the Humanities at Harvard University. Also General Editor of "The Norton Shakespeare", he is the author of eleven books, including "The Swerve: How the World Became Modern; Shakespeare's Freedom"; "Will in the World: How Shakespeare Became Shakespeare"; "Hamlet in Purgatory"; "Practicing New Historicism"; "Marvelous Possessions: The Wonder of the New World"; and "Learning to Curse: Essays in Early Modern Culture". He has edited seven collections of criticism, including "Cultural Mobility: A Manifesto", and is a founding coeditor of the journal "Representations". His honors include the MLA's James Russell Lowell Prize for "Shakespearean Negotiations: The Circulation of Social Energy in Renaissance England", the Distinguished Humanist Award from the Mellon Foundation, the Wilbur Cross Medal from the Yale University Graduate School, the William Shakespeare Award for Classical Theatre, the Erasmus Institute Prize, two Guggenheim Fellowships, and the Distinguished Teaching Award from the University of California, Berkeley. He was president of the Modern Language Association of America and is a fellow of the American Academy of Arts and Sciences, the American Philosophical Society, and the American Academy of Arts and Letters.