Dracula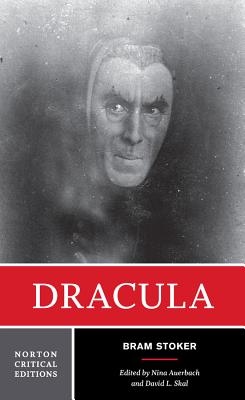 Dracula
W. W. Norton & Company, Paperback, 9780393970128, 512pp.
Publication Date: December 17, 1996
* Individual store prices may vary.
Buy Now
or
Shop Local
Enter your zip code below to purchase from an indie close to you.
Description
A rich selection of background and source materials is provided in three areas: Contexts includes probable inspirations for Dracula in the earlier works of James Malcolm Rymer and Emily Gerard. Also included are a discussion of Stoker's working notes for the novel and "Dracula's Guest," the original opening chapter to Dracula. Reviews and Reactions reprints five early reviews of the novel. "Dramatic and Film Variations" focuses on theater and film adaptations of Dracula, two indications of the novel's unwavering appeal. David J. Skal, Gregory A. Waller, and Nina Auerbach offer their varied perspectives. Checklists of both dramatic and film adaptations are included.
Criticism collects seven theoretical interpretations of Dracula by Phyllis A. Roth, Carol A. Senf, Franco Moretti, Christopher Craft, Bram Dijsktra, Stephen D. Arata, and Talia Schaffer.
A Chronology and a Selected Bibliography are included.
About the Author
Abraham (Bram) Stoker was an Irish writer, best known for his Gothic classic Dracula, which continues to influence horror writers and fans more than 100 years after it was first published. Educated at Trinity College, Dublin, in science, mathematics, oratory, history, and composition, Stoker' s writing was greatly influenced by his father' s interest in theatre and his mother' s gruesome stories about her childhood during the cholera epidemic in 1832. Although a published author of the novels Dracula, The Lady of the Shroud, and The Lair of the White Worm, and his work as part of the literary staff of The London Daily Telegraph, Stoker made his living as the personal assistant of actor Henry Irving and the business manager of the Lyceum Theatre in London. Stoker died in 1912, leaving behind one of the most memorable horror characters ever created.

David J. Skal is a leading American cultural historian and critic of horror film and literature. The author of The Monster Show and Hollywood Gothic, he lives in Glendale, 98 California.

Nina Auerbach is John Welsh Centennial Professor of History and Literature and Professor of English at the University of Pennsylvania. She is the author of Communities of Women: An Idea in Fiction; Woman and the Demon: The Life of a Victorian Myth; Romantic Imprisonment: Women and Other Glorified Outcasts; Ellen Terry, Player in Her Time; Private Theatricals: The Lives of the Victorians; and Our Vampires, Our Selves. She is co-editor, with U. C. Knoepflmacher, of Forbidden Journeys: Fairy Tales and Fantasies by Victorian Women Writers.