Roll, Jordan, Roll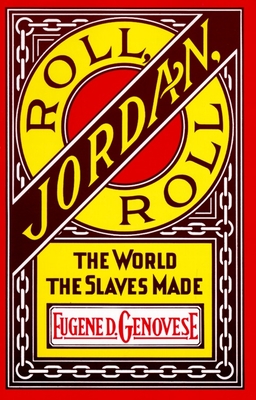 Roll, Jordan, Roll
The World the Slaves Made
Vintage, Paperback, 9780394716527, 864pp.
Publication Date: January 1976
* Individual store prices may vary.
Buy Now
or
Shop Local
Enter your zip code below to purchase from an indie close to you.
Description
This landmark history of slavery in the South—a winner of the Bancroft Prize—challenged conventional views of slaves by illuminating the many forms of resistance to dehumanization that developed in slave society.

Rather than emphasizing the cruelty and degradation of slavery, historian Eugene Genovese investigates the ways that slaves forced their owners to acknowledge their humanity through culture, music, and religion. Not merely passive victims, the slaves in this account actively engaged with the paternalism of slaveholding culture in ways that supported their self-respect and aspirations for freedom. Roll, Jordan, Roll covers a vast range of subjects, from slave weddings and funerals, to the language, food, clothing, and labor of slaves, and places particular emphasis on religion as both a major battleground for psychological control and a paradoxical source of spiritual strength. Displaying keen insight into the minds of both slaves and slaveholders, Roll, Jordan, Roll is a testament to the power of the human spirit under conditions of extreme oppression.
About the Author
Eugene D. Genovese is a retired professor of history. He served as chair of the Department of History at the University of Rochester and taught at other institutions. He also served as president of the Organization of American Historians and of The Historical Society and he was a member of the Executive Council of the American Historical Society. He is the author of nine other books, most recently Miss Betsey: A Memoir of Marriage.
Praise For Roll, Jordan, Roll…
"The most profound, learned, and detailed analysis of slavery to appear since World War II. It covers an incredible range of topics and offers fresh insights on  nearly every page. . . . Genovese's great gift is his ability to penetrate the minds of both slaves and masters, revealing not only how they viewed themselves and each other, but also how their contradictory perceptions interacted." --The New York Times Book Review

"Without modern peer as an historical narrative, as a sensitive functional analysis of a major region and period of American society in general, and the Afro-American community in particular." --The New Republic

"Altogether a first-class historical work, enhanced by a good, forthright style" --The New Yorker

"Genovese  has done more than any other American historian to life this tortured subject out of its culture-bound parochialism." --C. Vann Woodward, The New York Review of Books