Cloud-Hidden, Whereabouts Unknown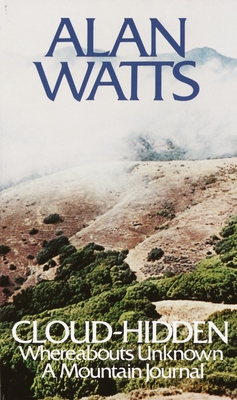 Cloud-Hidden, Whereabouts Unknown
A Mountain Journal
Vintage Books USA, Paperback, 9780394719993, 208pp.
Publication Date: March 12, 1974
* Individual store prices may vary.
Buy Now
or
Shop Local
Enter your zip code below to purchase from an indie close to you.
Description
Over the course of nineteen essays, Alan Watts ruminates on the philosophy of nature, ecology, aesthetics, religion, and metaphysics. Assembled in the form of a mountain journal, written during a retreat in the foothills of Mount Tamalpais, CA, "Cloud-Hidden, Whereabouts Unknown "is Watts's meditation on the art of feeling out and following the watercourse way of nature, known in Chinese as the Tao. Embracing a form of contemplative meditation that allows us to stop analyzing our experiences and start living in to them, the book explores themes such as the natural world, established religion, race relations, karma and reincarnation, astrology and tantric yoga, the nature of ecstasy, and much more.
About the Author
Alan Watts, was instrumental in introducing Eastern thought to Western civilization. He held both a master's degree in theology and a doctorate of divinity, and is best known as an interpreter of Indian and Chinese philosophy and Zen Buddhism. He was the author of hundreds of articles on philosophy and religion, and 33 books that have been translated into eleven languages.