Cloud-Hidden, Whereabouts Unknown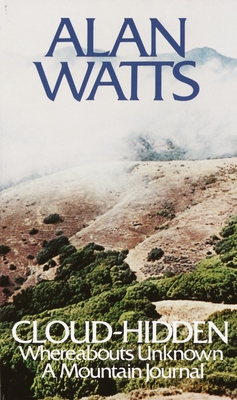 Cloud-Hidden, Whereabouts Unknown
A Mountain Journal
Vintage Books USA, Paperback, 9780394719993, 208pp.
Publication Date: March 12, 1974
* Individual store prices may vary.
Shop Local
Enter your zip code below to find indies closest to you.
Description
Over the course of nineteen essays, Alan Watts ruminates on the philosophy of nature, ecology, aesthetics, religion, and metaphysics. Assembled in the form of a "mountain journal," written during a retreat in the foothills of Mount Tamalpais, CA, "Cloud-Hidden, Whereabouts Unknown "is Watts's meditation on the art of feeling out and following the watercourse way of nature, known in Chinese as the Tao. Embracing a form of contemplative meditation that allows us to stop analyzing our experiences and start living in to them, the book explores themes such as the natural world, established religion, race relations, karma and reincarnation, astrology and tantric yoga, the nature of ecstasy, and much more.
About the Author
Alan Watts was born in England in 1915 and received his early education at King's School, Canterbury. He received a master's degree from Seabury-Western Theological Seminary in Illinois and an honorary doctorate of divinity from the University of Vermont. He wrote his first book, The Spirit of Zen, at the age of twenty and went on to write over twenty other books including The Way of Zen, The Book, and Tao: The Watercourse Way, which though never fully completed was published after the author's death and introduced thousands of readers to Taoist thought.
In addition to being an acclaimed author and philosopher, Dr. Watts was also an Episcopalian minister, professor, graduate-school dean and reasearch fellow of Harvard University. By the early 1960s, he moved to Sausolito, California, and held seminars and lectures throughout the United States. Alan Watts died in 1973.