A Mencken Chrestomathy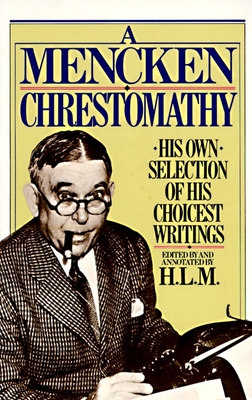 A Mencken Chrestomathy
His Own Selection of His Choicest Writings
Vintage, Paperback, 9780394752099, 656pp.
Publication Date: April 12, 1982
* Individual store prices may vary.
Buy at Local Store
Enter your zip code below to purchase from an indie close to you.
or
Buy Here
Description
Edited and annotated by H.L.M., this is a selection from his out-of-print writings. They come mostly from books the six installments of the Prejudices series, A Book of Burlesques, In Defense of Women, Notes on Democracy, Making a President, A Book of Calumny, Treatise on Right and Wrong but there are also magazine and newspaper pieces that never got between covers (from theAmerican Mercury, theSmart Set, and theBaltimore Evening Sun) and some notes that were never previously published at all.
Readers will find edification and amusement in his estimates of a variety of Americans Woodrow Wilson, Aimee Semple McPherson, Roosevelt I and Roosevelt II, James Gibbons Huneker, Rudolph Valentino, Calvin Coolidge, Ring Lardner, Theodore Dreiser, and Walt Whitman. Those musically inclined will enjoy his pieces on Beethoven, Schubert, and Wagner, and there is material for a hundred controversies in his selections on Joseph Conrad, Thorstein Veblen, Nietzsche, and Madame Blavatsky.
About the Author
Henry L. Mencken was born in Baltimore, Maryland in 1880 and died there in 1956. He began his long career as a journalist, critic, and philologist on the Baltimore Morning Herald in 1899. In 1906 he joined the staff of the Baltimore Sun, thus beginning an association which lasted until a few years before his death. He was co-editor of the Smart Set with George Jean Nathan from 1908 to 1923, and with Nathan he founded The American Mercury, of which he was sole editor from 1925 to 1933. He was the author of many books, most notably The American Language, Prejudices, Happy Days, Newspaper Days, Heathen Days, and Minority Report.