Best Intentions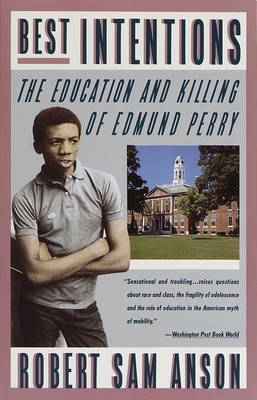 Best Intentions
The Education and Killing of Edmund Perry
Vintage, Paperback, 9780394757070, 240pp.
Publication Date: May 12, 1988
* Individual store prices may vary.
Buy at Local Store
Enter your zip code below to purchase from an indie close to you.
or
Buy Here
Description
A complex, poignant exploration of racial attitudes in America, as illumined by the case of Edmund Perry. Perry, a seventeen-year-old black honors student from Harlem, was fatally shot by a young white plainclothes policeman in 1985 in an alleged mugging attempt. Perry had recently graduated from Philips Exeter Academy and was to attend Stanford University that fall. The shooting and the subsequent case, in which Edmund's elder brother Jonah, an undergraduate at Cornell University, was accused, tried, and found not guilty, drew national headlines and was the subject of heated debate among black and white communities alike. Using interviews with Perry's parents, friends, and former teachers in Harlem and at Exeter, journalist Robert Sam Anson has written a compelling account of a boy caught between two worlds and a profound portrait of the state of race in America.
About the Author
Robert Sam Anson became a reporter for Time while still a student at the University of Notre Dame, where he was involved in antiwar and civil rights movements. In 1970, while on assignment in Cambodia, he was taken prisoner of war. Anson has worked as an anchorman for public television, a senior writer for New Time magazine, and a freelance magazine writer and author. He is the author of, among others, Best Intentions, McGovern: A Biography, and Exile: The Unquiet Oblivion of Richard M. Nixon.
Praise For Best Intentions…
"Disquieting...often poignant" (Time), an "engrossing" (Newsweek) exploration of racial attitudes in America, as illumined by the case of Edmund Perry: a seventeen-year-old black honors student from Harlem who, soon after being graduated from Phillips Exeter Academy, perhaps the nation's most prestigious prep school, was killed by a young white plainclothes policeman whom he and a companion allegedly tried to mug.

"Mr. Anson is interested in exploring Edmund Perry's short life, and especially his education -- the irony that someone who had already traveled so for would end up lying on a sidewalk so dose to where he had grown up, a cop's bullet in his belly. Perry had not only attended Exeter, he had also done well there, and he had also studied in Spain for a year. He had become friendly with a wide circle of black and white students and with a number of teachers in that distinguished northern New England setting .... How could it happen that someone who spent years in such an environment could come to such an end? The author sought out Perry's mother and father, his friends and former teachers, in Harlem and at Exeter. Their comments are the heart of this well-told, melancholy story -- so much praise for such a promising life, so much bewilderment and outrage over its outcome." -- Robert Coles, The New York Times Book Review

"Compelling...a portrait of 'cultural schizophrenia' and a detailed account of a teenager who tried, unsuccessfully, to keep a foot in two different worlds -- one in a black ghetto, another in an environment characterized by elitist whites who were unknowingly insensitive to his concerns." -- Atlanta Journal-Constitution

"Unfolds like a detective story." -- Chicago Sun-Times

"Profoundly disturbing." -- Kansas City Star

"Concerned, even-handed and conscientious...The point of Best Intentions is...to challenge the naive assumptions of a system based upon the myth of a magic carpet"

-- Los Angeles times Book Review

"A meditation on a serious issue that's also a page-turner."

-- The New York times Review of Books