How It Feels When Parents Divorce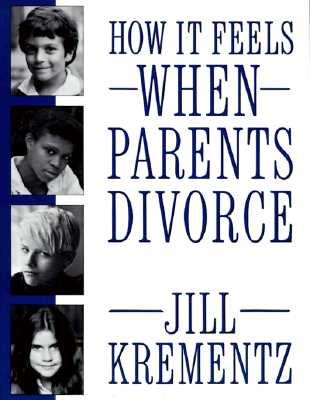 How It Feels When Parents Divorce
Knopf, Paperback, 9780394758558, 128pp.
Publication Date: February 12, 1988
* Individual store prices may vary.
Buy at Local Store
Enter your zip code below to purchase from an indie close to you.
or
Not Currently Available for Direct Purchase
Description
In this immensely moving book, nineteen boys and girls, from seven to sixteen years old and from highly diverse backgrounds, share with us their deepest feelings about their parents' divorce. By listening to them, all children of divorced parents can find constructive ways to help themselves through this difficult time. And they will learn that their own shock and anger, confusion and pain, have been experienced by others and are normal and appropriate. These boys and girls speak with extraordinary honesty and tolerance, and with a remarkable absence of rationalization, illusion, or attempt to justify their own often-trying behavior in response to their situations. Their stories are immediate and convincing, and their generosity in confiding their feelings should provide comfort to children and parents alike.
Praise For How It Feels When Parents Divorce…
"Jill Krementz's book uses two important techniques for uncovering the issues for children of divorce -- her soul-searching pictures of the children and her sensitive interviews. Since 58 percent of children in the United States will live in single-parent families, their feelings should be a critical, burning issue for all of us. The issues as they see them are poignant and devastatingly incisive in the telling. That they all pay a price -- of having to assume the responsibility for family breakup, of having to wonder whether family relationships are even a good idea -- comes through loud and clear. That the price can be balanced in some ways by parents who do not use the child as a "football," but maintain good relationships with each other, is demonstrated as well. I feel that parents can certainly benefit, as can children, from learning about how to live with the losses of a divorce. The voices of these children are strong and vital. Their stories show how achingly responsive they are to such a caring, sensitive person as Ms. Krementz. This is a beautiful book and one we should all read."

-- Dr. T. Berry Brazelton

"Krementz has captured the painful and resilient humanity of these families both in her photographs and in the words she has selected. This is truly an important book."

-- Edward H. Garcia, Dallas Morning News

"These are poignant and honest pictures and stories of children of divorce, told in their own words. They should give valuable insights to all divorced and divorcing parents -- and to their children too. They are more revealing than the books written by the professionals."

-- Dr. Benjamin Spock