Shrapnel in the Heart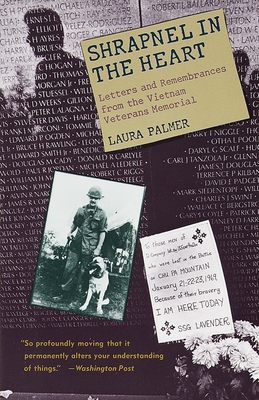 Shrapnel in the Heart
Letters and Remembrances from the Vietnam Veterans Memorial
Vintage, Paperback, 9780394759883, 272pp.
Publication Date: November 5, 1988
* Individual store prices may vary.
Buy at Local Store
Enter your zip code below to purchase from an indie close to you.
or
Buy Here
Description
For the first time, one book gives voice to the haunting, painful, tender, and healing tales of those who lost so much in America's least popular war.
About the Author
CAROLYN JESSOP was born into the Fundamentalist Church of Jesus Christ of Latter-Day Saints, a group splintered from and renounced by the Mormon Church, and spent most of her life in Colorado City, Arizona, the main base of the FLDS. Since leaving the group in 2003, she has lived in West Jordon, Utah, with her eight children. LAURA PALMER is the author of "Shrapnel in the Heart" and collaborated on five other books, the most recent being "To Catch a Predator" with NBC's Chris Hansen. She lives in New York City.
Praise For Shrapnel in the Heart…
"This tour de force brings home the pain and suffering of soldiers and kin in a way that no other writing has with which I'm familiar. It is simply splendid." -- Walter Cronkite

"A moving, touching, generous book that helps restore humanity to a generation of young Americans who were depersonalized and dehumanized by the political passions of an unpopular war. Read it and weep." -- Ted Koppel

"This is a book that needed to be written. Laura Palmer's sensitivity and understanding...may indeed make Shrapnel in the Heart a classic." -- Jan Scruggs, President, Vietnam Veterans Memorial Fund

"A powerful and moving book." -- Cyra McFadden

"There is an extraordinary and deeply moving eloquence in these expressions of grief. This is a book that should be read, but it is slow going. It is difficult to read through a steady mist of tears." -- The Atlantic